Kanye West's mother dies after 'cosmetic procedure'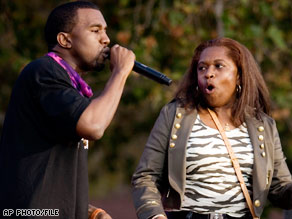 posted 2007-11-12 11:42:29 by grendel





LOS ANGELES, California (CNN) -- The mother of hip-hop mogul Kanye West died following a "cosmetic procedure" in Los Angeles this weekend, her publicist told CNN Monday.
But Patricia Green, the publicist for Dr. Donda West, did not give details about the procedure or exactly what the cause of death was.
West died Saturday at the age of 58, confirmed a representative of West's record label, Island Def Jam, who added that "the family respectfully asks for privacy during this time of grief."
Donda West was a major influence on her son's life, as the music producer-singer-songwriter has often acknowledged. Video Watch Donda West talk about "Raising Kanye" »
She was the inspiration for the song, "Hey Mama," on Kanye West's 2005 album "Late Registration." Among the lyrics: "Hey Mama, I wanna scream so loud for you, cuz I'm so proud of you ... I appreciate what you allowed for me. I just want you to be proud of me."
Earlier this year, she released a book she co-authored called "Raising Kanye: Life Lessons From the Mother of a Hip-Hop Superstar."
West retired from her post as professor and chair of the English Department at Chicago State University in 2004 to become her son's manager, according to the Kanye West Foundation Web site.
advertisement
Kanye West's writing partner Rhymefest lamented Donda West's death Sunday in an appearance on Chicago radio station WCGI, the AP reported.
"She was everyone's mom," Rhymefest said. "A spirit never dies, a spirit lasts forever."