Hobart Brown, dead at 74.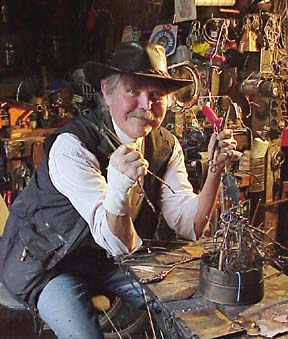 posted 2007-11-09 08:41:29 by grendel





The death of the "Pentacycle."
FORTUNA, Calif. (AP) — Hobart Brown, a gallery owner and artist who parlayed a bet with a friend over who could build a better human-powered vehicle into a hobby enjoyed worldwide, died Wednesday. He was 74.
Brown died of pneumonia, said his friend Shaye Harty, president of the nonprofit group that organizes the Kinetic Sculpture Race, a three-day competition co-founded by Brown that features wacky wheeled contraptions.
The event started in 1969 when Brown turned his son's tricycle into a decorated five-wheeled "Pentacycle" and another local artist challenged him to a race through downtown Ferndale that drew six other participants, Harty said.
The annual race is 38 miles. Over the years, the tradition expanded to other U.S. cities and as far away as Australia, Harty said.
Born in Oklahoma on Feb. 27, 1933, Brown moved to Los Angeles as a boy and learned to weld while working as an airplane mechanic. In 1962, he moved to Humboldt County, where he opened Hobart Galleries in Eureka to represent local artists.
His wire sculptures were shown in museums and collected by Ronald Reagan and Johnny Carson, among others.
Brown, who suffered from rheumatoid arthritis, retired from racing several years ago and had been in declining health since suffering a stroke in May.