Hank Thompson Dies of Lung Cancer at 82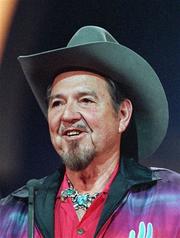 posted 2007-11-07 14:07:46 by grendel





DALLAS (AP) -- Hank Thompson has died of lung cancer just days after canceling his tour. The country singer was 82.
Thompson died late Tuesday at his home in the Fort Worth suburb of Keller, said spokesman, Tracy Pitcox, who is also president of Heart of Texas Records.
"He was battling aggressive lung cancer," Pitcox said Wednesday in a statement. "He remained conscious until the last couple of hours and passed away peacefully at about 10:45 p.m. on Tuesday night surrounded by his friends and family."
The last show Thompson played was Oct. 8 in his native Waco. That day was declared "Hank Thompson Day" by Gov. Rick Perry and Waco Mayor Virginia DuPuy.
Fans loved Thompson's distinctive gravelly voice and his musical style, a mix of honky-tonk and Western swing. He was named to the Country Music Hall of Fame in 1989.
His first recording was "Whoa, Sailor" in 1946. That year, he started a band called the Brazos Valley Boys, which won Billboard magazine's touring band of the year award 14 consecutive times.
Thompson had 29 hits reach the top 10 between 1948 and 1975. Some of his most famous songs include "Humpty Dumpty Heart" and "A Six Pack to Go."
His album "The Wild Side of Life" reached No. 1 in 1952. It inspired a famous "answer song" written by J.D. Miller, "It Wasn't God Who Made Honky Tonk Angels." Recorded by Kitty Wells, the song was the first No. 1 hit by a woman soloist on the country music charts and made Wells a star.
Thompson grew up a fan of Gene Autry, which fueled his love of the guitar. By the time he finished high school, he was playing on a local radio show, where he was featured as "Hank the Hired Hand."
He served in the Navy, and studied electrical engineering at Southern Methodist University, the University of Texas and Princeton.
Thompson considered a career in engineering, but remained in show business. He caught the attention of Tex Ritter, who helped him get a contract with Capitol Records.
Pitcox said Thompson requested that no funeral be held.
A "celebration of life," open to fans and friends, will be held Nov. 14 at Billy Bob's Texas, a Fort Worth honky-tonk.
Survivors include his wife, Ann. He had no children.