Enzo Biagi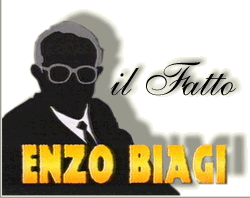 posted 2007-11-07 10:49:59 by grendel





ROME (AP) — Enzo Biagi, a veteran newspaper and TV journalist and prolific author whose straightforward writing style stood out in a country where journalistic writing is often dense and convoluted, died Tuesday in Milan. He was 87.
Bice Biagi, one of two daughters who was at his bedside at a Milan hospital, told reporters her father was sleeping peacefully when he died. He had heart trouble for years.
For years, Biagi — with his white hair, thick-framed eyeglasses and calm voice — was a dinner hour staple on TV, offering his commentary on the top stories of the day.
Biagi started working as a reporter at age 18, and covered the Allied forces' liberation of Italy several years later. Later, in Milan, he directed a news weekly, Epoca, and began working in television. He alternated TV work with writing books — several of them best-sellers — and articles for newspapers including La Repubblica, Corriere della Sera and La Stampa.
One of his most popular state TV programs ended in 2002 after heavy criticism from then-Premier Silvio Berlusconi. Berlusconi accused Biagi and two other journalists critical of his conservative leadership of making "criminal use" of publicly funded television to push a left-leaning agenda.
Among his more notable interviews was one in 1986 with Libyan leader Moammar Gadhafi outside a tent in that north African country a few hours before U.S. bombers attacked Tripoli.
He also was known for irreverent questioning. While interviewing a priest in the Amazon forest, his first question was: "Do you ever miss women?"