Lowell Dennis Smith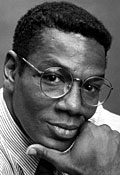 posted 2007-11-07 09:07:10 by grendel





LOS ANGELES (AP) — Lowell Dennis Smith, a one-time principal dancer with the Dance Theater of Harlem who brought forceful but fluid body movements to traditional ballets and modern productions, has died. He was 56.
Smith died Oct. 22 at the University of California, Los Angeles, Medical Center of lung cancer, said longtime friend Rick Frey.
During his 17 years with the Harlem group, Smith gained a reputation as a powerful performer with an intense stage presence. One of his best known roles with the group was as Stanley Kowalski in a dance adaptation by Valerie Bettis of the Tennessee Williams play "A Streetcar Named Desire."
He also performed in a number of traditional ballets and modern classics such as "The Four Temperaments" by George Balanchine.
Born in 1951 in Memphis, Tenn., Smith studied dance at the North Carolina School of the Arts in Winston-Salem. He then performed as a dancer and actor in Memphis and later with the Eglevsky Ballet on Long Island in New York.
He joined the Dance Theater of Harlem in 1976, seven years after it was founded to help black dancers enter the predominantly white world of classical ballet.
Smith also directed the Harlem group's dance school and the Kennedy Center Dance Project. He taught at the Royal Ballet, the University of California, Los Angeles, and Brown University and instructed public school students in New York City and Los Angeles.