Julia Agnes Washington Bond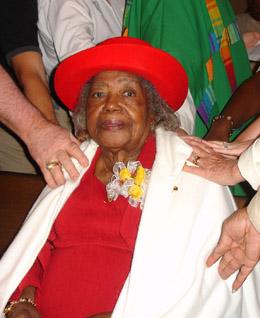 posted 2007-11-07 09:01:56 by grendel





ATLANTA (AP) — Julia Agnes Washington Bond, whose son Julian became chairman of the NAACP and co-founded the Southern Poverty Law Center, has died. She was 99.
She died Friday in Atlanta, according to the Carl M. Williams Funeral Home. A cause of death was not given.
Julia Bond was born in Nashville, Tenn., and graduated from Pearl High School — the city's only black high school — in 1924 at age 16. She attended Fisk University in Nashville and graduated with a bachelor's degree in English in 1929, according to obituary information supplied by the funeral home.
During her senior year, she met Horace Mann Bond, one of the few black teachers at the college. They married in 1929.
Horace Bond went on to become the first dean at Dillard University in New Orleans and president of Georgia's Fort Valley State College for Negroes. In 1945, he became president of his alma mater, Lincoln University in Pennsylvania. In 1957, he was named dean of the school of education at Atlanta University.
As Atlanta University's first lady, Julia Bond traveled to Europe and Africa, attending the inauguration of Kwame Nkrumah as Ghana's first president in 1957. She earned a degree in library science from the college at age 56 and was circulation librarian at the school's library for seven years. She retired in 2000 at age 92.
At age 89, Julia Bond published "The Star Creek Papers," a journal detailing the lives of poor black farm families among whom she and her husband lived in southeastern Louisiana during several months in 1934. She also contributed to an oral history published at Spelman College last year.
Horace Mann Bond, Sr., died in 1972.