Robert Goulet, Actor, Dies at 73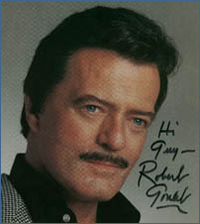 posted 2007-10-30 21:14:06 by beth





Robert Goulet, who marshaled his dark good looks and thundering baritone voice to play a dashing Lancelot in the original "Camelot" in 1960, then went on to a wide-ranging career as a singer and actor, winning a Tony, a Grammy and an Emmy, died today. He was 73.
The singer died in a Los Angeles hospital while awaiting a lung transplant, a Goulet spokesman said in an e-mail, according to the Associated Press.
In September, Mr. Goulet received a diagnosis of interstitial pulmonary fibrosis, a rapidly progressive, potentially fatal condition, his wife, Vera, said in a statement released on Oct. 25 on Mr. Goulet's website. On Oct. 13, he was transferred from a hospital in Las Vegas, where he lived, to Cedars-Sinai Medical Center in Los Angeles to await the transplant.
After the "Camelot" triumph, Mr. Goulet was called the next great matinee idol. Judy Garland described him as a living 8-by-10 glossy. He was swamped with offers to do movies, television shows and nightclub engagements. Few articles failed to mention his bedroom blue eyes, and many female fans tossed him room keys during performances. His hit song from the show, "If Ever I Would Leave You," remains a romantic standard.
"Something in his voice evokes old times and romance," Alex Witchel wrote in the New York Times Magazine in 1993. "He makes you remember corsages."
Still, Mr. Goulet left a sense that he might have even been more than he was. For a suave musical theater performer, he arrived late, just after Elvis and just before the Beatles. In 1961, The New York Daily News Magazine called him "just the man to help stamp out rock 'n' roll." But it was an impossible assignment.
Moreover, the public had begun to lose its appetite for over-the-top entertainment deities. "We're no longer something that's on the dark side of the moon — unattainable," Mr. Goulet told The Saturday Evening Post in 1963.
So Mr. Goulet did not become a hit-record machine, a perennial on Broadway, a major movie star or, by his own evaluation, a finely accomplished actor. But his more than 60 albums, travels with touring theatrical revivals and many Las Vegas gigs were enough to ensure nearly a half-century of popularity.
In 1982, he was named Las Vegas entertainer of the year. In an article this year, The Las Vegas Review-Journal said he had prized a picture showing the day his name appeared on the marquees of two showplaces: he had just played the Desert Inn and was starting at the Frontier.
"My manager kept me working in those places because he was getting half my money," Mr. Goulet said in an interview with The Hartford Courant in 2002, "and the money was coming in."
His Las Vegas success led to roles parodying himself as the consummate lounge singer, a part he played in the movie "Atlantic City" (1980). He was the voice for a character much like himself in a "Simpsons" episode, and he portrayed Robert Goulet in ESPN commercial spots that won a sports Emmy for best promotional shorts in 1996.
"The two sweetest words in the English language after chorus girl — college hoops," Mr. Goulet said in one ad.
Mr. Goulet's rise after "Camelot" was swift. In 1962, he won a Grammy award as best new artist for his first two albums, "Always You" and "Two of Us," and his hit single "What Kind of Fool Am I." Two years later, his album "My Love Forgive Me" went gold; 17 of his albums between 1962 and 1970 made the charts.
He reached the peak of his popularity in the '60s. In 1966, he starred in a television adaptation of "Brigadoon," which won an Emmy as outstanding musical production. He won a Tony for his performance in the 1968 Broadway musical "The Happy Time." And he appeared frequently on popular television programs like "The Ed Sullivan Show."
Robert Gerard Goulet was born on Nov. 26, 1933, in Lawrence, Mass. He often spoke of his father, Joseph, a textile-mill guard and fine amateur singer of French-Canadian extraction, who died when Robert was in his mid-teens. Joseph was so moved by Robert's singing during a church performance that he said (on his deathbed in some versions), "God gave you a voice, and you must sing."
The family moved to Edmonton, Alberta, after Joseph's death. Robert took singing lessons, dropped out of high school in his senior year and made his first professional appearance around the age of 16. He took a job as a disk jockey in Edmonton. He next studied opera at the Royal Conservatory of Music in Toronto on a scholarship.
He looked for entertainment work in New York, but ended up selling stationery at Gimbels department store. He returned to Toronto, where he won theatrical parts and was soon cast in the Canadian Broadcasting Corporation's television production of "Little Women." He later starred for three years on "Showtime," a leading television variety program.
Fan clubs formed for the young man they called "Canada's first matinee idol," a title Mr. Goulet disliked. Soon a theatrical agent recommended him to Alan Jay Lerner, the librettist, and Frederick Loewe, the composer, for their new musical, "Camelot."
His audition, in September 1960, went so well that everyone applauded, a rarity, Mr. Goulet recalled in an interview with Music Educators Journal in 1998.
Mr. Loewe asked him, "Parlez-vous francais?"
Mr. Goulet answered, "Oui, certainement." (Lancelot was French.)
His agent described the deal he had just negotiated: Mr. Goulet would start at $ 750 a week. Mr. Goulet piped up that he would do it for nothing. "Shut up!" the agent snapped.
The show's tryout in Toronto drew good notices. Variety called Mr. Goulet the "perfect Lancelot." Broadway critics, too, praised Mr. Goulet, though most were at best lukewarm about the show, which also starred Julie Andrews and Richard Burton. But the public loved it. It ran for 873 performances, closing in January 1963. The cast album, featuring "If Ever I Would Leave You," topped the charts.
Mr. Goulet's first marriage, to Louise Longmore, ended in divorce in March 1963. That November, he married the singer and actress Carol Lawrence. The couple were called a real-life Ken and Barbie, but they divorced in 1981 and an acrimonious tell-all book by Ms. Lawrence followed.
Besides his wife, Vera Novak, Mr. Goulet is survived by a daughter, Nicolette, from his first marriage; his sons Christopher and Michael from his second, and two grandchildren.
In the 1990s and beyond, Mr. Goulet continued to sing and act. He also took on novel assignments; in one, he provided the singing voice for Wheezy the Penguin in "Toy Story 2" (1999); in another, he played a mischievous office prankster in a commercial for Emerald Nuts, shown during this year's Super Bowl.
He spoke widely about his recovery from prostate cancer to encourage men to be tested for the disease. But even with health problems, he could laugh at his own expense. When he had surgery on a split femur in the mid-1990s, he asked the surgeon if he would be able to dance afterward. The doctor said yes.
"That's good," Mr. Goulet said, "because I couldn't dance before."