Thomas J. Meskill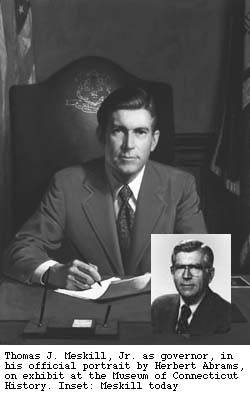 posted 2007-10-30 17:07:10 by grendel





HARTFORD, Conn. (AP) — Thomas J. Meskill, a Connecticut Republican who overcame early political losses to become a respected congressman, governor and federal judge, has died. He was 79.
Meskill died early Monday of a heart attack in Florida, said his wife, Mary Meskill. He had the blood disorder myelodysplasia and had gone to Bethesda Memorial Hospital in Boynton Beach, Fla., on Sunday to have blood drawn, she said.
Meskill was elected to Congress in 1966, representing northwestern Connecticut, and served until 1970.
He won the election for governor that year and became the state's 82nd chief executive in January 1971, the first Republican to hold the office in 16 years.
In 1975, President Gerald Ford named him a judge on the 2nd U.S. Circuit Court of Appeals in New York. He served full-time until 1993, and was chief judge in his last year.
Meskill enlisted in the Air Force in September 1950 and served in Alaska during the Korean War. He graduated from the University of Connecticut Law School in 1956.