Freddie Jefferson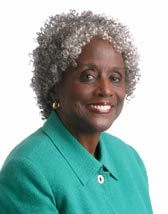 posted 2007-10-30 17:05:49 by grendel





WEST PALM BEACH, Fla. (AP) — Freddie Jefferson, the first black woman to sit on the editorial board of The Palm Beach Post, has died. She was 71.
Jefferson, who wrote a column under the name Stebbins Jefferson, using her maiden name as her first name, died Saturday of complications from heart surgery, friends and relatives said.
She was born and raised in Arcadia and moved to Palm Beach County in 1957, where she took a teaching job at Lake Shore High School in Belle Glade. Jefferson later taught at John F. Kennedy High School, Lake Worth High School and Palm Beach Community College.
She joined the Post as a columnist in 1989, writing largely about race relations. Five years later, Jefferson joined the editorial board, where she spent the next decade.