Friedman Paul Erhardt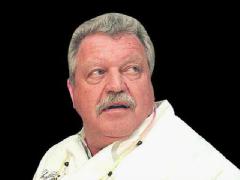 posted 2007-10-30 14:03:41 by grendel





PHILADELPHIA (AP) — Friedman Paul Erhardt, a German-born cook known as "Chef Tell" who was one of America's pioneering television chefs, has died. He was 63.
Erhardt died Friday of heart failure at his home in Upper Black Eddy, about 25 miles east of Allentown, his family said.
Erhardt's jolly personality, thick German accent and wit made him a fixture on TV shows such as "Regis and Kathie Lee" and comedy skits on "Saturday Night Live."
He was also said to be the inspiration for the Swedish chef on "The Muppet Show."
Born in Stuttgart, the son of a newspaper owner, Erhardt earned the nickname "Tell" after playing William Tell in a school play.
He trained in restaurants and hotels throughout Europe.
He made his first appearance on a local Philadelphia TV show "Dialing for Dollars" in 1974. That was followed by a 90-second cooking spot on a nationally syndicated show, which blossomed into appearances on "Lifestyles of the Rich and Famous," specials for QVC and a PBS program, "In the Kitchen With Chef Tell."
He was also known on the Philadelphia dining scene as the owner of several restaurants in the 1970s and 80s and as a culinary educator, cookbook author and spokesman for major cookware and food product lines.