Former NHL Defenseman Passes Away at 90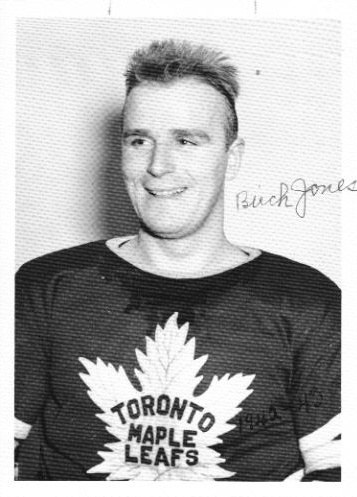 posted 2007-10-24 10:53:47 by grendel





Former NHL defenseman, Alvin "Buck" Jones passed away on August 23, 2007. The former NHL defenseman played with the Detroit Red Wings and Toronto Maple Leafs, died a mere week after celebrating his 90th birthday.
Born August 16, 1917 in Owen Sound, Ontario, Alvin "Buck" Jones enjoyed a hockey career that took him from his Georgian Bay home to the National Hockey League. Along the way he skated with teams in Great Britain and the American Mid-West. His career included a sojourn into the hockey arenas of Hitler's Germany.
During the 1938-39 hockey season, Buck fulfilled the dream of most every young Canadian boy. He played eleven games for the Detroit Red Wings. For the next four seasons, the 5'11", 200-pound defenseman played part of each season in the Motor City.
In February 1943, he joined the Toronto Maple Leafs for 16 games. But like many hockey players of the World War Two era, his professional career was cut short by enlistment in the Allied War effort.
When Buck returned from military service, he skated with the Tulsa Oilers of the United States Hockey League (USHL). For the next several seasons Jones played hockey in Seattle and Tacoma on the West Coast and with the Hershey Bears of the American Hockey League.
Jones retired after the 1955 hockey season and moved to Tampa Florida. Here, along with his wife Anna Kay, they raised two sons (Alvin Jr, and Hugh).
In a 1998 interview, Buck said that as a youngster, sports were a big part of his life. His father Luther, a star lacrosse player with the legendary Owen Sound Alexandrias, made a skating rink every year in the family's backyard.
He recalled that hockey was his favorite sport. Besides frequent games of shinny, Buck played in the Owen Sound School Hockey League. Late in his life, pictures of his Dufferin School hockey team still adorned the walls of his Tampa home.
In the summertime he recalled riding his bicycle around Owen Sound with his friends, hoping to catch sight of Teddy Graham the first Owen Sounder to make it big in the National Hockey League.
Although hockey consumed a lot of his childhood, Buck also played lacrosse and competed in swimming and track and field events.
In 1936 Buck left home to play for the Barrie Flyers. But after that season, he took an adventure that remained a strong memory for the rest of his life. He travelled to England to play for the Harringay Greyhounds.
Playing hockey halfway around the world from his Owen Sound home was exciting, but, a hockey barnstorming trip through Europe would leave memories that would fit onto the pages of the history books.
Buck was selected to play for an all-star team that toured several European countries, including Nazi Germany. But, more than a half a century after the historic event one memory stood above the others.
Buck said that as they walked through the streets in Germany, the voice of Adolph Hitler boomed throughout the air from loudspeakers positioned up and down the city streets. Buck said, "You just couldn't get away from it."
In an interview with Buck Jones at his Tampa home on an autumn day a few years ago, Mr. Jones was asked, "Buck, back in your hometown of Owen Sound, Ontario, frost is in the air and any day snow is about to fall. It's 82 degrees here in Tampa today, the sun is shining, but do you ever think about going home for a winter of snow and hockey."
Buck responded, "Not only do I think about it. I dream about!"
Alvin "Buck" Jones was a classy guy and will be missed by all who knew him.