Electric Jellyfish band crash in US claims two lives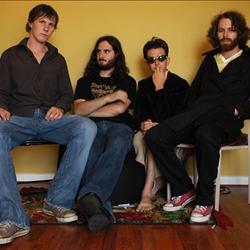 posted 2007-10-19 00:17:38 by grendel





October 19, 2007 10:50am
A YOUNG Australian rock band on their first US tour has been shattered after their SUV crashed killing the guitarist and his wife.
Hayden Sweeney, 23, from Melbourne band Electric Jellyfish and his wife Bridget, 26, died after losing control of the vehicle on the Ohio Turnpike near Cleveland early yesterday.
Frontman Mike Beech suffered head injuries and was initially listed as critical but his condition has since stabilised, while the bass player Adam Camilleri suffered a broken arm.
Drummer Patrick Lias walked away with minor injuries and was staying near Cleveland Metro Hospital as he came to terms with the deaths and the abrupt end to their dream.
Lias's twin brother Anthony told NEWS.com.au today the tour was the culmination of four years hard work and saving since forming the band at La Trobe University in Melbourne.
"They were hoping to get signed after the tour," he said. "My brother was stacking shelves, saving money to get the tour together."
Anthony Lias said the band were travelling between Detroit and Ohio when Bridget apparently swerved to avoid a deer on the road about 5.20am.
She and her husband were killed instantly.
The band had a show in Detroit on Wednesday and were booked to play in Brooklyn in New York City tonight.
They have been in the US for less than a month.
Ohio State Highway Patrol's Milan Post Sergeant Tony Myers confirmed two people had died in the crash and three others were taken to hospital.
"The passengers are alleging that there was a deer that ran out that she swerved to avoid so it appears to be an animal accident, that's not confirmed or proven but that's the initial report that we are received,'' Sergeant Myers said.
He said one of the dead was a 23-year-old passenger from Melbourne and the other was the 26-year-old female driver from California.
All occupants in the vehicle were wearing their seatbelts.
Police said the car was a 2001 Chevrolet Tahoe which swerved off the right side of the roadway on the Ohio Turnpike and struck a guardrail. It then overturned and continued across the roadway, striking a concrete barrier on the left side of the roadway.
Local television station WKYC said their instruments and musical gear had to be picked up off the highway following the accident.
Anthony Lias said the band lived together in a shared house in the Melbourne suburb of Northcote and the band was the focus of their lives.
He remembered Hayden and Bridget as an outgoing, artistic couple who also painted together.
They married earlier this year after being introduced by frontman Mike Beech who was an Australian resident from the US.
"Mike and Hayden - they were really going for the rock star lifestyle," Mr Lias said. "They lived fast and liked partying."