Colin McRae, 1995 World Rally champion, dead at 39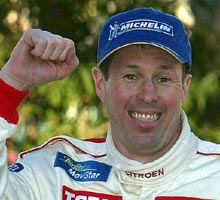 posted 2007-09-19 09:40:52 by grendel





LONDON: Colin McRae, whose fascination with cars grew into an obsession that led him to win the 1995 World Rally Championship, was killed in a helicopter crash along with his 5-year-old son and two others, police said Sunday. He was 39.
McRae was piloting the helicopter, which he owned and was licensed to fly, when it crashed Saturday in a wooded area near his home in Scotland.
"Colin was very much an inspiration and role model to motor sport fans the world over," said McRae's father, Jimmy. "Johnny (McRae's son) was a great wee guy, spending every spare minute with his dad, and even at this early stage it looked like he had the potential to carry on the family dynasty."
McRae raced in the World Rally Championship from 1987 until 2004, winning 25 races. He also took part in the Paris to Dakar rally, the Le Mans 24 hour race, the Race of Champions and the X Games.
McRae also lent his name to a best-selling computer game.
"I don't think anybody disliked him, everyone was his friend in the sport," FIA president Max Mosley said. "Some of his achievements in rallying were absolutely extraordinary. Everywhere he went he was an ambassador, an ambassador for the sport and for Scotland, he was terrific."
Two other people also died in the crash — 6-year-old Ben Porcelli and 37-year-old Graeme Duncan. The aircraft was badly burned, making it impossible for police to immediately identify the occupants.
"There was never a minute when he didn't try 100 percent and, of course, we had lots of accidents," said David Richards, who owned the Prodrive team that McRae raced with when he won his world title. "And it is with great irony that, with all the accidents he had in rally cars that he walked away from unscathed, this happens in a helicopter.
"He had a competitive spirit like I've never seen in any other individual in my life."
The son of five-time British rally champion Jimmy McRae, Colin McRae was competing on motorbikes by age 7. He competed in his first rally in 1985, but qualified as a plumber while he built his racing career, which took off when he became the British rally champion in 1991 and 1992.
He lifted the world title in 1995, and was runner-up in 1996, 1997 and 2001. He made intermittent appearances on the WRC circuit until 2006.
"I didn't set goals as I went along," McRae told Autosport Magazine in a January interview. "I just wanted to be quick as possible and win as much as possible."
McRae's flamboyant racing style earned many fans in all types of motorsport and lifted the profile of rallying in Britain.
"He was really daring, always pushing it further," Formula One driver Heikki Kovalainen said. "I always liked his attitude. It was maximum attack always and he had some big rolls sometimes. Every time he had one, though, it was like: 'Oh well, it's just a roll,' and he just carried on."
McRae spent 2006 working on an auto camp in Are, Sweden, which he wanted to become the world's premier driving center. He also took part in a rally contest at the X Games over the past two years, including last month's event in Carson, California.
In the 2006 event, McRae flipped his Subaru, tearing a wheel off the car but still finished second.
McRae's success on the rally circuit led to a computer game "Colin McRae Rally," first released in 1998, which is now found on PlayStation, Game Boy, Xbox and PSP platforms.
"It was something that I didn't really know anything about when I got involved in it, back in the early '90s," McRae told Autosport. "It's been great, it's been very successful — and probably one of the single things that increased my popularity and notoriety more than anything."
McRae received an MBE award in 1996 from Queen Elizabeth II. He leaves a wife, Alison, and a daughter, Hollie.