`Munsters' Star Yvonne De Carlo Dies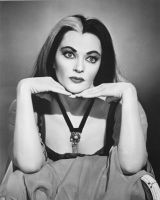 posted 2007-01-10 15:45:49 by stevemay





LOS ANGELES -- Yvonne De Carlo, the beautiful star who played Moses' wife in "The Ten Commandments" but achieved her greatest popularity on TV's "The Munsters," has died. She was 84.
De Carlo died of natural causes Monday at the Motion Picture & Television facility in suburban Los Angeles, longtime friend and television producer Kevin Burns said Wednesday.
De Carlo, whose shapely figure helped launch her career in B-movie desert adventures and Westerns, rose to more important roles in the 1950s. Later, she had a key role in a landmark Broadway musical, Stephen Sondheim's "Follies."
But for TV viewers, she will always be known as Lily Munster in the 1964-1966 slapstick horror-movie spoof "The Munsters." The series (the name allegedly derived from "fun-monsters") offered a gallery of Universal Pictures grotesques, including Dracula and Frankenstein's monster, in a cobwebbed gothic setting.
Lily, vampire-like in a black gown, presided over the faux scary household and was a rock for her gentle but often bumbling husband, Herman, played by 6-foot-5-inch character actor Fred Gwynne (decked out as the Frankenstein monster).
De Carlo was born Peggy Yvonne Middleton in Vancouver, British Columbia, on Sept. 1, 1922, (some sources say 1924). Abandoned by her father, she was raised by her mother in poor circumstances. The girl took dancing lessons and dropped out of high school to work in night clubs and local theaters. She continued dancing in clubs when she and her mother moved to Los Angeles.
Paramount Pictures signed her to a contract in 1942, and she adopted her middle name and her mother's middle name. Dropped by Paramount after 20 minor roles, she landed at Universal, which cast her as the B-picture version of the studio's sultry star Maria Montez.
In 1955, De Carlo married Bob Morgan, a topflight stunt man, and the marriage produced two sons, Bruce and Michael, as well as much-publicized separations and reconciliations.
During a stunt aboard a moving log train for "How the West Was Won," Morgan was thrown underneath the wheels. The accident cost him a leg, and for a time De Carlo abandoned her career to care for him. They later divorced.
In her late years, De Carlo lived in semiretirement near Solvang, north of Santa Barbara. Her son Michael died in 1997, and she suffered a stroke the following year.