Turkmenistan's president for life dead at 66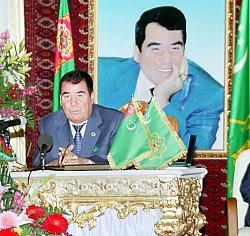 posted 2006-12-21 09:43:26 by stevemay





RESIDENT Saparmurat Niyazov - who created a vast cult of personality during two decades of iron-fisted rule over arid, energy-rich Turkmenistan - died yesterday aged 66.
A terse report from state television said Niyazov died of heart failure and showed a black-framed portrait of the man who had ordered citizens to refer to him as "Turkmenbashi" - the Father of All Turkmen.
Niyazov underwent major heart surgery in Germany in 1997 and last month publicly acknowledged for the first time that he had heart disease.
Niyazov had led Turkmenistan since 1985, when it was still a Soviet republic. After the 1991 Soviet collapse, he retained control and began creating an elaborate personality cult and turning Turkmenistan into one of the most oppressive of the ex-Soviet states.
He ordered the months and days of the week named after himself and his family, and statues of him were erected throughout the nation.
He is listed as author of the Rukhnama (Book of the Soul) that was required reading in schools.
He crushed all opposition and drew condemnation from human rights groups and Western governments.
A 2002 alleged assassination attempt sparked a severe crackdown, leading to dozens of arrests.
Turkmenistan - a majority Muslim country dominated by the vast Kara Kum desert - has the world's fifth-largest natural gas reserves, but Niyazov failed to convert that wealth into prosperity for his country's five million people.
Earlier this year, the eccentric leader announced he would provide citizens with natural gas and power free of charge through to 2030. But he has also tapped the country's vast energy wealth for outlandish projects: a huge, man-made lake in the Kara Kum desert, a vast cypress forest to change the desert climate, an ice palace outside the capital, a ski resort and a 40m pyramid.
Niyazov was born on February 19, 1940. His father died in World War II and the rest of his family was killed in an earthquake that levelled the capital, Ashgabat, in 1948. He was raised in an orphanage and later in the home of distant relatives.
He was elected president of the new independent Turkmenistan in 1992 with a reported 99.5per cent of the vote. In 1994, an alleged 99.9 per cent of voters supported a referendum allowing him to remain in office for a second five-year term without having to face new elections.
In 1999, he was effectively made president for life after parliament removed all term limits, but an August 2002 gathering of the country's People's Council - a hand-picked assembly of Niyazov loyalists - nonetheless went further and endorsed him as president for life.
Deputy Prime Minister Gurbanguly Berdymukhammedov was last night named interim president. Niyazov's funeral is to be held on Sunday.