Ahmet Ertegun, Founder of Atlantic Records, Dies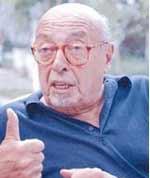 posted 2006-12-14 20:43:22 by doug





Ahmet Ertegun, the record-company magnate who founded Atlantic Records and shaped the careers of many of the top musicians of his day, including John Coltrane, Ray Charles, the Rolling Stones and Led Zeppelin, died today in Manhattan. He was 83.
A spokesman for Atlantic Records said the death was a result of a brain injury suffered when Mr. Ertegun fell backstage at the Beacon Theater in Manhattan on Oct. 29 as the Rolling Stones prepared to play a private party celebrating former President Bill Clinton's 60th birthday.Mr. Ertegun was the dapper son of a Turkish diplomatic family. He was equally at home at a high-society soirée or a rhythm-and-blues club, the kind of place where, in the 1950s, he found the performers who went on to make hits for Atlantic Records, one of the most successful American independent music labels.
He was an astute judge of both musical talent and business potential, surrounding himself with skillful producers and remaking rhythm-and-blues for the pop mainstream. As Atlantic Records grew from a small independent label into a major national recording company, it became a stronghold both of soul, with Aretha Franklin and Otis Redding, and of rock, with Led Zeppelin, Yes and the Rolling Stones.
Ever conscious of the music's roots, Mr. Ertegun was also a prime mover in starting the Rock and Roll Hall of Fame and Museum in Cleveland.
Mr. Ertegun fell in love with music when he was 9 years old, he recalled. In 1932, his older brother, Nesuhi, took him to see the Duke Elllington and Cab Calloway orchestras at the Palladium Theater in London. The beauty of the jazz, the power of the beat and the elegance of the musicians made a lasting impression.
His instincts were not impeccable. He lost out on chances to sign the Beatles and Elvis Presley. But in an industry in which backstabbing is commonplace, Mr. Ertegun was admired as a shrewd businessman with a passion for the creative artists and the music he nurtured.
Along with a partner, Herb Abramson, Mr. Ertegun founded Atlantic Records in 1947 in an office in a condemned hotel on West 56th Street in Manhattan. His initial investment of $10,000 was borrowed from his family dentist.
By the 1950s, Atlantic's records had developed a unique sound, best described as the mixed and polygamous marriage of Mr. Ertegun's musical loves. He and his producers mingled blues and jazz with the mambo of New Orleans, the urban blues of Chicago, the swing of Kansas City and the sophisticated rhythms and arrangements of New York.
Mr. Ertegun often signed performers who had been seasoned on the rhythm-and-blues circuit. He pushed them toward dynamic performances and recorded them with careful studio technique while clarifying their music just enough to make it palatable to the white teenagers who would become the primary audience for rock 'n' roll. Every so often, with his name spelled in reverse as Nugetre, Mr. Ertegun appeared as the songwriter on R&B hits like "Chains of Love" and "Sweet Sixteen."
In 1954, Atlantic released both "I Got a Woman" by Ray Charles and "Shake, Rattle, and Roll" by Joe Turner. (Mr. Ertegun was one of the backup singers on "Shake, Rattle and Roll"). The songs had a good beat, and people danced to them. They were among the strongest roots of rock and roll.
After his brother Nesuhi joined Atlantic in 1956, the label attracted many of the most inventive jazz musicians of the era, including Coltrane, Charles Mingus, the Modern Jazz Quartet and Ornette Coleman. In 1957, Atlantic was among the first labels to record in stereo.
By the 1960s, often in partnerships with local labels like Stax in Memphis, Mr. Ertegun was selling millions of recordings by the leading soul musicians of the day, among them Aretha Franklin and Otis Redding. Ms. Franklin had recorded previously for Columbia Records, but her hits for Atlantic — which merged her gospel roots with an earthy strength and sensuality — were the ones that made her the Queen of Soul.
Mr. Ertegun's music partnerships, he sometimes pointed out, were often culturally triangular. He was Turkish and a Muslim by birth. Many of his fellow executives, like the producer Jerry Wexler, were Jews. The artists they produced, particularly when the label began, were African-Americans. Together they helped move rhythm-and-blues to the center of popular music.
Mr. Ertegun and Ioana Maria Banu were married on April 6, 1961. Known as Mica, she became a prominent interior designer. She survives him.
The Ertegun brothers and their partner Mr. Wexler sold the Atlantic label to Warner-Seven Arts in 1967 for $17 million in stock. Four years later, the brothers took some of the money and founded the New York Cosmos soccer team.
But Mr. Ertegun kept making records. When the Kinney Corporation, a conglomerate of parking lots, funeral parlors, rental cars and other unmusical enterprises, bought out Warner-Seven Arts in 1969, he and his label kept going.
Mr. Ertegun was now a rock mogul. Atlantic Records signed the Rolling Stones, Led Zeppelin, and Crosby, Stills and Nash, who became Crosby, Stills, Nash and Young after Mr. Ertegun persuaded Neil Young to join the group. The corporations changed — Kinney turned into Warner Communications, which became Time Warner — but Atlantic and its founder still flourished.
It remained one of the only record labels of the 1940s to survive the multibillion-dollar mergers and acquisitions of the 1990s in more than name only, with its founder still in charge. Mr. Ertegun reduced his daily corporate duties in 1996 but remained an inveterate night-clubber, avid concertgoer and insatiable music maven well into his 80s.
Ahmet Ertegun was born in Istanbul on July 31, 1923. His father, Mehmet Munir, was the legal counselor to Kemal Ataturk, the founder of modern Turkey.
In 1925, Ataturk sent the elder Ertegun to serve as the Turkish representative to the League of Nations. Over the next 20 years, he was Turkish Ambassador to Switzerland, to France, to the Court of St. James under King George V and finally to the United States under President Franklin D. Roosevelt. The young Ahmet Ertegun grew up in that worldly realm. His father, the dean of the diplomatic corps in Washington, died in 1944.
That year, at 21, having earned a bachelor's degree at St. John's College in Annapolis, Md., Mr. Ertegun was taking graduate courses in medieval philosophy at Georgetown University.
"In between, I spent hours in a rhythm-and-blues record shop in the black ghetto in Washington," he told the graduates of Berklee College of Music in Boston on receiving an honorary degree in May 1991. "And almost every night, I went to the Howard Theater and to various jazz and blues clubs."
"I had to decide whether I would go into a scholastic life or go back to Turkey in the diplomatic service, or do something else," he said. "What I really loved was music, jazz, blues, and hanging out." And so, he told the students, he did what he loved.