Author Bebe Moore Campbell Dies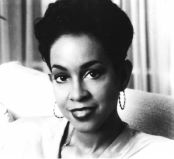 posted 2006-11-28 18:46:20 by mike





Bebe Moore Campbell, a best-selling author and University of Pittsburgh trustee, whose novels and nonfiction work touched on many themes that define the complexities of the black experience in America, died yesterday at her home in Los Angeles from brain cancer. She was 56.
Obituary: Bebe Moore Campbell / Author showed how complex it was to be black in America
Feb. 18, 1950 - Nov. 27, 2006
Tuesday, November 28, 2006
By Tim Grant, Pittsburgh Post-Gazette
Bebe Moore Campbell, a best-selling author and University of Pittsburgh trustee, whose novels and nonfiction work touched on many themes that define the complexities of the black experience in America, died yesterday at her home in Los Angeles from brain cancer. She was 56.
Mrs. Campbell had been announced to be the convocation speaker at the University of Pittsburgh Founder's Day ceremony in February, but she had to cancel at the last minute because of sudden blurred vision. From then on, she wrestled with the neurological condition that eventually took her life.
"More and more I realize that life is a blessed gift from God," she wrote in a letter to fans and supporters shortly before her death. "Recently, I have been given another challenge to face, which in many instances is perhaps one of my greatest."
A 1971 Pitt graduate who was elected to its board of trustees in June 2005, Mrs. Campbell achieved international prominence as the best-selling author of nine books and as a writer and editor for popular black magazines such as Essence, Ebony and Black Enterprise.
The Washington Post called Mrs. Campbell one of the most important African-American authors of the century.
"The entire university community mourns the loss of our treasured alumna, trustee and friend," said Pitt Chancellor Mark A. Nordenberg.
"As a writer, she crafted honest and riveting prose, illuminating the legacies of slavery and freedom, and her ear for the language and rhythms of urban life have given the world a perspective that is uniquely hers.
"As a daughter of Pitt, she was a role model for students and a powerful spokeswoman for the ideals we hold dear," he said.
"Not only was Bebe one of America's most accomplished authors, but she was a warm, friendly and accessible personality not at all taken with her celebrity status," said Robert Hill, a close friend and vice chancellor for public affairs at Pitt.
Mrs. Campbell was not afraid to tackle big issues in her novels and nonfiction books, two of which -- "Brothers and Sisters" (1995) and "Sweet Summer" (1989) -- were made into films.
Some of the themes in her storytelling included discrimination, adultery, interracial relations, class and the romantic tension between black men who often earn less than the black women who love them.
"She was able to show that people of color lived all kinds of lives," said Sharon Fluke of Stanton Heights, the author of five books.
"She raised people's reading level. I'm devastated."
Pittsburgh native and novelist Jewell Parker Rhodes remembers Mrs. Campbell as a courageous writer who illuminated the human character with insight, compassion and mother wit.
"Whether writing about love affairs, character failings or family tragedies, she never failed to demonstrate how society can shape and inform our values for both good and ill," said Ms. Rhodes, a writing professor at Arizona State University.
"Her novel, 'Your Blues Ain't Like Mine,' remains one of the most moving texts about the murder of Emmitt Till and the beginnings of the civil rights movement.
"It should be required reading [for every American]."
Mrs. Campbell's last adult book, "72 Hour Hold," published in June 2005, was also the subject of the last major crusade she took on before her death -- advocating for mental health, especially in the minority community, said her friend and publicist, Linda Wharton-Boyd, of New York.
Her interest in mental health was motivated by a loved one in her family who is struggling with mental illness. It also was a catalyst for her first children's book, "Sometimes Mommy Gets Angry" (2003).
"She wanted people to get help that was necessary rather than hide it under a rug," Ms. Wharton-Boyd said.
"Bebe was a woman of courage, fortitude and determination. She wrote with passion and conviction. Her writing is universal, and all who read her work love it."
At Pitt, Mrs. Campbell represented to students something closer to their lives than just another widely published author in a classroom syllabus.
The fact that she was a product of the Oakland campus let "students imagine themselves in that role. Here was this woman who went to class in the Cathedral of Learning, had gone to school here and had achieved some substantial prominence," said David Bartholomae, a professor and chairman of Pitt's English department.
People on campus said that Mrs. Campbell made several return visits to Pitt in recent years, including one in which she wowed a group of students during a hastily arranged reading and question-and-answer session in the cathedral.
In fall 2003, her return to Pitt was arranged by the Black Action Society, a campus group she had helped establish decades earlier.
The spring 2005 visit that included the cathedral meeting with students was tacked onto an event in which she and other accomplished Pitt alumnae were honored.
Dr. Bartholomae, who attended the session with students, remembered how the audience of 100 or more crammed into a fifth-floor meeting room, sitting on the floor, on tables and on each other's laps for a session that had little advance notice.
"She was absolutely generous and charming and interested in their questions," he said. "It's just a great loss to the world of American letters as well as the University of Pittsburgh community."
Jack Daniel, a Pitt professor and former vice provost who taught Mrs. Campbell as an undergraduate, remembers her being small in physical stature but "big in ideas and commitment to writing and correcting social injustices that were not just limited to race."
"It was race, the proper rearing of children, the nuclear family, peace," he said.
As a student in his class on African-American Rhetoric, he recalled how she expressed a desire to one day be a writer.
Mario Dones, 22, president of Pitt's Black Action Society, said Mrs. Campbell will be remembered by members of his group not only for her publishing credits but for how she remained interested in the Black Action Society and the well-being of students years after she left campus.
She was, Mr. Dones said, "an example of how to continually reach back to where you come from."
An only child, Elizabeth Bebe Moore Campbell Gordon was born Feb. 18, 1950, in Philadelphia.
She received a bachelor's degree in elementary education and taught elementary school for three years in Atlanta.
She quickly realized that teaching was not her destiny and pursued a career in writing, which led to fame and fortune as an author, public speaker and commentator for National Public Radio.
"I was a faithful listener of her commentaries on NPR," Ms. Flake said. "I couldn't wait for the days she came on to hear what she had to say."
Mrs. Campbell's survivors include her husband of 22 years, Ellis Gordon Jr. of Los Angeles; her mother, Doris Moore of Los Angeles; a daughter, Maia Campbell of Los Angeles; a son, Ellis Gordon III of Mitchellville, Md.; and two grandchildren.