Former Pirates general manager Syd Thrift dies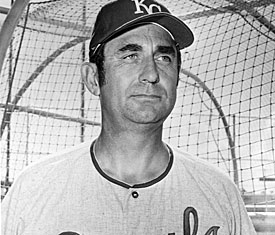 posted 2006-09-19 15:29:44 by dmcnelis





Syd Thrift, general manager of the Pirates in the 1980s, has died.
Tuesday, September 19, 2006
The Richmond Times-Dispatch is reporting that Mr. Thrift, 77, died last night. The newspaper's Web site said the alumni office at Randolph-Macon College confirmed the death. Mr. Thrift was a 1949 graduate of the school.
Mr. Thrift served as general manager of the Pirates from Nov. 7, 1985, to Oct. 4, 1988. He was the executive vice president for baseball operations of the Baltimore Orioles from Dec. 22, 1999, through the end of the 2002 season. Mr. Thrift also worked for the Kansas City Royals, New York Yankees, Chicago Cubs and Oakland Athletics.