Pittsburgh Mayor O'Connor dies at 61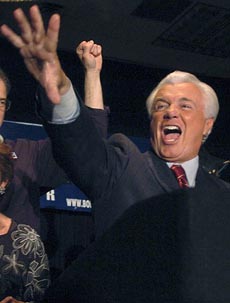 posted 2006-09-01 22:12:19 by doug





Pittsburgh Mayor Bob O'Connor died at 8:55 p.m. tonight at UPMC Shadyside Hospital, where he was being treated for brain cancer.
City Council President Luke Ravenstahl was to be sworn in as mayor at 10:30 p.m., said Dick Skrinjar, the mayor's communications director.
Mr. O'Connor's family was at his side when he passed away, Mr. Skrinjar said.
Robert E. O'Connor Jr., 61, was called "Bob" by everyone until Jan. 3, 2006, when he became "Mayor," a title he sought for 12 years but held for only eight months. His election came on his third attempt to win the job.
He hit the ground running with an agenda aimed at cleaning up the city he loved, putting heat under long-dormant Downtown development plans and reducing the number of blighted buildings marring neighborhoods.
His "redd up" campaign, named after the local colloquialism for tidying up, was organized to coincide with Major League Baseball's All-Star Game on July 11.
But instead of leading the festivities, Mr. O'Connor that day underwent his first chemotherapy treatment for primary central nervous system T-cell lymphoma, a very rare variant of an unusual cancer of the brain and spinal cord.
The mayor initially was hospitalized on July 6 for what were described as flu-like symptoms. He went home for two days but, after tests uncovered the cancer, he returned to Shadyside .
A month later, just before undergoing emergency surgery to drain fluid from his brain, Mr. O'Connor turned over the official day-to-day reins of city government by appointing Yarone Zober, who had been policy director, as deputy mayor.
A child of Greenfield, Mr. O'Connor was born Dec. 9, 1944, to Bob Sr. and Mary Anne Dever O'Connor.
He attended St. Philomena's grade school, Central Catholic High School, briefly, and graduated in 1962 from Taylor Allderdice High.
Then he went to work, first at Jones & Laughlin's steel mills.
In 1964, he and Judy Klemp, a Squirrel Hill native and fellow Allderdice graduate, eloped to West Virginia.
From 1972 on, they lived in the Squirrel Hill home in which she grew up. They raised three children, Heidy Garth , now of Swissvale and a marketing research manager; Terrence O'Connor, a law school graduate who went on to become a Catholic priest at St. Alphonsus Parish in Pine; and Corey O'Connor, varsity golf coach at Central Catholic High School.
After five years in the mills, Mr. O'Connor took a pay cut - not his last - to join his wife's uncles in a restaurant business. The company was later sold to Beaver County businessman Lou Pappan.
Mr. Pappan, the owner at various times of many Pappans, Roy Rogers and Wendy's restaurants, took a shine to the young, friendly-but-serious Mr. O'Connor. Recognizing management material, he put his young protege through leadership training, and eventually made him an executive vice president in charge of 1,000 employees in 36 locations.
Eventually Mr. O'Connor decided to run for office. He was 45 and the rules for electing City Council members had just been changed so members were elected by district, rather than citywide.
Mr. O'Connor beat three better-known Democrats, thanks in part to an enthusiastic, hyper-loyal troupe of volunteers and gigantic popularity in Greenfield and Hazelwood.
After the election, he did something that, along with his always-perfect silver hair and his cookie cruise fund-raisers, would become a trademark: He stood on a busy street corner with a sign that said, simply, "Thanks."
Mr. O'Connor's early City Council years set the tone for his career. He was all about beat cops, clean streets, fixed playgrounds, and raw ambition.
In January 1994, with two years on council under his belt, he made a bid for that body's presidency. Just-elected Mayor Tom Murphy, though, exerted his influence and placed Jim Ferlo, now a state senator, in the presidency.
In 1997, he challenged Mr. Murphy in the Democratic mayoral primary. He campaigned not so much on a platform as on a series of criticisms of the incumbent. He opposed public financing of new stadiums for the Pirates and Steelers, which Mr. Murphy supported. He said Mr. Murphy was shortsighted in selling the city water system, trading a steady source of revenue for short-term cash. He predicted financial implosion.
He was badly outspent and undermanned. Nonetheless, he pulled in 42 percent of the vote, which was 12 points percentage points behind Mr. Murphy in a three-candidate field.
In 1998, Mr. O'Connor won the council presidency on the second ballot, in part through brilliant parliamentary moves by Mr. Ferlo. That would mark the beginning of an odd political pairing - two Democrats, one conservative and the other liberal, one rooted in business and the other in activism, united by mutual respect and deep suspicion of Mr. Murphy.
Mr. O'Connor presided over council for four years, during which he and Mr. Ferlo helped defeat Mr. Murphy's plan to raze and rebuild Downtown's retail core, and rewrote the city's property tax system so land and buildings now are taxed at the same rate.
That led into a tough 2001 mayor's race that some of Mr. O'Connor's backers still maintain was stolen. In its closing weeks, Mr. Murphy agreed to the outlines of a generous contract with the city's firefighters, who promptly endorsed him. Mr. Murphy won by 699 votes - fewer than the number of city firefighters at the time - and Mr. O'Connor conceded only after weeks of scouring the tally for errors.
Mr. O'Connor considered a 2002 run for lieutenant governor, but instead left city government in 2003 for an appointed post, running Gov. Ed Rendell's southwestern Pennsylvania office.
In 2005, he ran for mayor again. He beat city Councilman William Peduto and county Prothonotary Michael Lamb in the primary, and he easily beat Republican Joe Weinroth in the general election.
On Jan. 3, 2006, he was sworn in as mayor in front of the City-County Building.
Then, on the 185th day of his administration and five days before the All-Star Game, he was admitted to UPMC Shadyside for mounting fatigue, nausea, and head and neck pain. He was diagnosed first with a duodenal ulcer, and later with the extremely rare T-cell type of the uncommon primary central nervous system lymphoma.