'Undercover Kitten' dies in traffic accident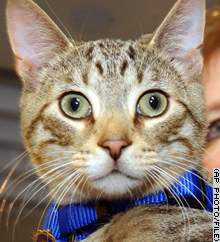 posted 2006-08-11 16:25:52 by dmcnelis





NEW YORK (AP) -- Fred, a tabby who found fame as the "Undercover Kitten," has died in a traffic accident, the Brooklyn district attorney's office said Friday.
Fred was a rescued stray when he was enlisted by law enforcers in February. He posed as a would-be patient to help police nab a man pretending to be a veterinarian.
He got his due at a press conference, where he sported a tiny badge on his collar.
"He's pretty easygoing, a real Brooklyn guy," his caretaker, prosecutor Carol Moran, said at the time.
Fred received a Law Enforcement Appreciation Award and was honored at "Broadway Barks," the theater district's adopt-a-thon benefit hosted by Mary Tyler Moore and Bernadette Peters.
Fred accidentally got out of Moran's house on Thursday, wandered into traffic and was run over by a car.
The district attorney's office said that Fred had been "preparing for a new career in education," with a "significant role" in a classroom program that teaches children how to care for animals.