Legendary producer dead at 74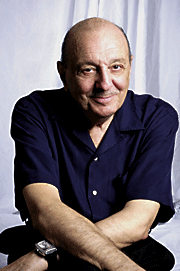 posted 2006-06-28 11:27:27 by dmcnelis





NEW YORK -- Arif Mardin, the legendary Grammy Award-winning producer who worked with stars including Aretha Franklin, Chaka Khan and Norah Jones, has died.
Mardin, 74, died Sunday, said his publicist, Lydia Sherwood. He had been suffering from pancreatic cancer.
"It's difficult to put into words the impact one individual has had on the evolution of recorded sound, especially when that individual is Arif Mardin," said a statement from the Recording Academy, which oversees the Grammy Awards. "Everyone in music will miss his contributions, but his legacy will live on as he truly has earned the music community's and the world's utmost respect."
Born in Turkey in 1932, Mardin came to the United States in 1958 after a meeting with Dizzy Gillespie and Quincy Jones convinced him to make music his career. He attended the Berklee College of Music in Boston, graduating in 1961.
Mardin started working at Atlantic Records in 1963, subsequently became a producer and arranger, and ultimately a senior vice president. He left in 2001, and worked at the revived Manhattan Records label later that year. He retired in 2004.
Mardin worked with an extensive list of artists, including The Young Rascals, Dusty Springfield, Hall and Oates, Bette Midler, Bee Gees, Roberta Flack, Barbara Streisand and Jewel.
Mardin won numerous Grammy Awards, including producer of the year in 1975 and 2002.
Copyright 2006 The Associated Press. All rights reserved.This material may not be published, broadcast, rewritten, or redistributed.