Eddie, the dog from 'Frasier,' dies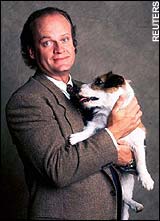 posted 2006-06-26 23:14:44 by doug





NEW YORK -- The dog that drove Frasier crazy has died. Eddie was played on the TV series by a Jack Russell terrier named Moose. His trainer tells People magazine that Moose was 16 1/2 years old when he died at her home in Los Angeles.
He'd been retired for the last 6 1/2 years of his life.
Moose also starred in the movie "My Dog Skip" as the older Skip.