Aaron Spelling, Prolific Television Producer, Dies at 83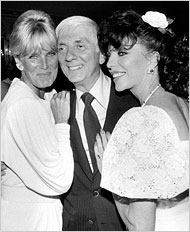 posted 2006-06-24 02:42:58 by stevemay





LOS ANGELES -- Aaron Spelling, the most prolific producer in American television, whose company generated hit shows over five decades, including "The Mod Squad," "Charlie's Angels," "The Love Boat," "Dynasty," "Beverly Hills, 90210," and "7th Heaven," died yesterday at his home in Los Angeles. He was 83.
The cause was complications from a stroke Mr. Spelling suffered last Sunday, his publicist, Kevin Sasaki, said.
Known as much for the wealth he accumulated in grinding out more than 200 television series and movies in his career, Mr. Spelling became a legendary figure in show business, a onetime bit actor who built one of the most successful production companies ever created, as well one of the most famously enormous mansions in Hollywood.
Mr. Spelling's career was defined by size and volume. He carved a place for himself in the Guinness Book of Records for the most hours of television produced: more than 3,000. At one time, in the 1970's and early 1980's, Mr. Spelling produced seven hours of programming a week on ABC, a third of that network's total prime-time schedule.
Mr. Spelling found success in almost every genre, including Westerns (his first series, in 1959, was "Johnny Ringo,") police shows ("Starsky and Hutch," "SWAT," "T. J. Hooker"), family drama ("Family," a rare critical success for Mr. Spelling), escapist anthology ("Love Boat" and "Fantasy Island"), glossy adult soap opera ("Dynasty") and youth-oriented soaps ("90210" and "Melrose Place").
For the most part his shows were as despised and denigrated by critics as they were loved by audiences. The New Yorker once labeled him a "schlock merchant." Mr. Spelling himself memorably described his oeuvre as "mind candy."
Nevertheless, he chafed under the critical onslaught, saying on several occasions, "It hurts." And in interviews he would often single out as his favored achievements the few programs and movies that brought him critical praise. He frequently mentioned his production role in the Emmy-winning HBO film on the AIDS crisis in America, "And the Band Played On."
But Mr. Spelling was not a producer who chased artistic success. He was able to amass a fortune mainly thanks to an ability to tap into mass taste. "Aaron has a legendary instinct for what the public wants to see," his onetime producing partner, Douglas Cramer, told The Los Angeles Times in 1996.
In the main, that instinct ran to campy or populist storytelling, most often featuring characters dripping with wealth. The trend began in Mr. Spelling's first success, "Burke's Law," in 1963, which starred Gene Barry as a detective who chased women and solved crimes while tooling around in his Rolls-Royce.
It reached its apogee in "Dynasty," a series about a billionaire oil family and their nasty, if well-coiffed, feuds. That series, which starred Joan Collins and Linda Evans, who created a much-talked-about television moment with a cat fight that wound up in a swimming pool, became widely mentioned as a metaphor for the "greed is good" years of America in the 1980's.
Mr. Spelling himself, though a self-effacing and extremely shy man in private, put his own vast wealth on display in the late 1980's when he and his wife, Candy, supervised the construction of their home in the Holmby Hills section of Los Angeles. The structure, which like his shows drew mostly scathing reviews, eventually contained 123 rooms over about 56,000 square feet. It was said to include a bowling alley, an ice rink and an entire wing devoted to his wife's wardrobe.
Mr. Spelling, who was often attended by a uniformed butler, also once owned a private railroad car and was known for trucking snow to Los Angeles in December to provide his two children with a white Christmas.
He defended the ostentation by saying he had worked hard for his success and had risen from truly dire conditions. Mr. Spelling was born in Dallas in 1923. His father was a Russian-immigrant tailor, who was good enough to have Hollywood stars like Eddie Cantor occasionally visit to pick up a suit (or so Mr. Spelling told it).
The family struggled with prejudice as a Jewish family in the South of that era. Mr. Spelling, a frail child, was so traumatized by bullying that at age 8 he psychosomatically lost the use of his legs for a year and was confined to bed. But that turned him into an avid reader (Twain was a favorite) and would-be writer.
He served in the Army Air Corps in World War II, entertaining on a troop ship and eventually writing for Stars and Stripes. A wound from a sniper left lasting damage to one hand. While recovering, he toured in the play "Old Mistress Mind," with Alfred Lunt and Lynn Fontaine.
Enrolling in Southern Methodist University on the G.I. Bill, Mr. Spelling took up performing comedy, and also wrote and directed plays. He tried New York for a few months but eventually headed west. A brief marriage to Janice Carruth ended in divorce.
In his early days in Hollywood, Mr. Spelling found work mainly as an actor. His credits included guest roles in "I Love Lucy" and "Dragnet." Mr. Spelling often said that because he was so small, thin and bug-eyed, he was usually cast as a pervert or drunk or some other kind of squirrelly character. Typical was his part as Weed Pindle in a 1956 episode of "Gunsmoke," written by Sam Peckinpah, later to gain fame as a film director.
He also appeared as a beggar in the film version of "Kismet." By then Mr. Spelling was married to his second wife, the actress Carolyn Jones. The "Kismet" experience finally soured him on acting, and he devoted himself to work behind the camera. The actor Dick Powell became a mentor, hiring Mr. Spelling as a writer and eventually a producer on his television anthology show "Zane Grey Theater."
That led to his first series, "Johnny Ringo" in 1959, followed by, among other series, "Burke's Law" in 1963, "Honey West" in 1966, "The Guns of Will Sonnet" in 1967 and his breakthrough, "The Mod Squad," in 1968.
Mr. Spelling, who had divorced Ms. Jones in 1964, married Candy Marer, a sometime model, in 1968. They had two children, Tori and Randy, both of whom went into acting, mainly on their father's shows. Tori became a teenage tabloid figure after she became a regular on "Beverly Hills, 90210."
In addition to his wife and children, Mr. Spelling is survived by a brother, Randy, of Los Angeles.
In 1989, Mr. Spelling's long run of control over the bulk of ABC's schedule finally came to a close. His career hit a nadir when the new executive in charge of programming at ABC, Brandon Stoddard, declared publicly that the network would no longer be "Aaron's Broadcasting Company."
Mr. Spelling, aghast at seeing a headline in the show business trade paper Variety saying "Spelling Dynasty Dead," found himself sinking into depression at the prospect of becoming one of the forgotten men of Hollywood after ruling so long as the king of prime time. "I can honestly say that I don't know what the networks want anymore," Mr. Spelling said at the time.
Indeed, the next television season not a single show in prime time bore the Spelling production logo. Then the Fox network called and asked if he would be interested in an idea they had about a soap opera set in high school. "Beverly Hills, 90210" appeared in 1990.
From that moment until his death, Mr. Spelling had at least two programs on network schedules. At the same time, his earlier series were playing in repeats almost endlessly and in almost every part of the world.