Former NFL back ``Ironhead'' Heyward dies at age 39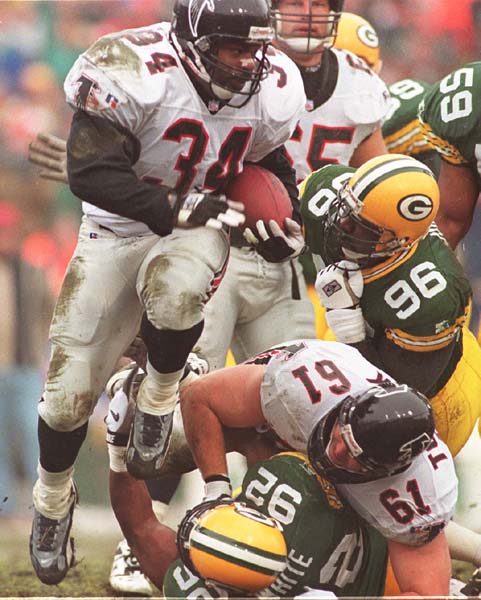 posted 2006-05-28 10:42:56 by stevemay





ATLANTA - Former NFL fullback Craig ``Ironhead'' Heyward died Saturday after a seven and a half year fight with a recurring brain tumor, his son's high school football coach said. He was 39.
Heyward spent 11 seasons in the NFL with New Orleans, Chicago, Atlanta, St. Louis and Indianapolis. The former University of Pittsburgh star rushed for a career-high 1,083 yards for the Falcons in 1995.
``I got a call at 4:30 or 5 that he had passed away,'' said Blair Armstrong, who coached Heyward's son, Cameron, at Peachtree Ridge High School. ``He was in a hospice when he died, but I don't know which one.''
Armstrong said he often talked to Heyward when he came to see his son play.
``He wasn't real mobile, but he'd been rehabbing. He thought he might walk again. But once he lost his hearing and his sight, his organs started shutting down. Other problems were just developing.''
Born in Passaic, N.J., in 1966, the 5-foot-11, 250-pound fullback ran for 4,301 yards in his NFL career and had 1,559 yards receiving.
``Craig Heyward truly ranks among the all-time greats in Pitt football history,'' Pittsburgh coach Dave Wannstedt said in a statement released with the school.
``I will always remember him as a tremendous player who had an irrepressible attitude on and off the field. The thoughts and prayers of the entire Pitt family are with Craig's loved ones during this time of sorrow.''