Test Pilot's Body Said Found in Wreckage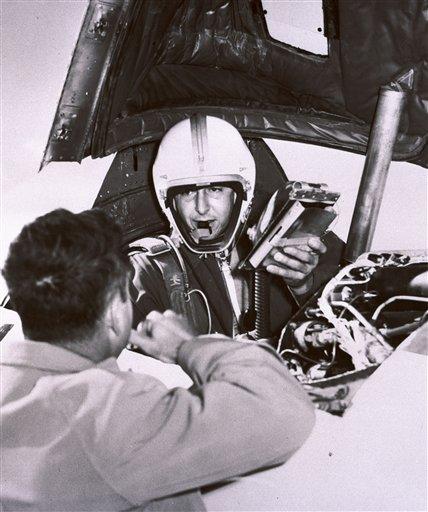 posted 2006-04-20 16:06:01 by stevemay





RANGER, Ga. -- Legendary test pilot Scott Crossfield, the first man to fly at twice the speed of sound, was found dead Thursday in the wreckage of a single-engine plane in the mountains of northern Georgia, his son-in-law said.
Searchers discovered the wreckage of a small plane about 50 miles northwest of Atlanta, but the Civil Air Patrol didn't immediately identify the body inside.
Ed Fleming, Crossfield's son-in-law, told The Associated Press from Crossfield's home in Herndon, Va., that family had been told it was Crossfield.
Crossfield's Cessna was last spotted in the same area on Wednesday while on flight from Alabama to Virginia. There were thunderstorms in the area when officials lost radar and radio contact with the plane at 11:15 a.m., said Kathleen Bergen, a spokeswoman for the Federal Aviation Administration.
Crossfield, 84, had been one of a group of civilian pilots assembled by the National Advisory Committee on Aeronautics, the forerunner of NASA, in the early 1950s.
Air Force Capt. Chuck Yeager had already broken the speed of sound in his history-making flight in 1947. But Crossfield set the Mach 2 record - twice the speed of sound - in 1953, when he reached 1,300 mph in NACA's Douglas D-558-II Skyrocket.
In 1960, Crossfield reached Mach 2.97 in an X-15 rocket plane launched from a B-52 bomber. The plane reached an altitude of 81,000 feet. At the time, Crossfield was working as a pilot and design consultant for North American Aviation, which made the X-15. He later worked as an executive for Eastern Airlines and Hawker Siddley Aviation.
More recently, Crossfield had a key role in preparations for the attempt to re-enact the Wright brothers' flight on the 100th anniversary of their feat near Kitty Hawk, N.C. He trained four pilots for the Dec. 17, 2003, flight attempt in a replica of the brothers' flyer, but poor weather prevented the take-off.
Among his many honors, Crossfield was inducted into the National Aviation Hall of Fame in 1983.
On Wednesday, his plane had left Prattville, Ala., around 9 a.m. en route to Manassas, Va., not far from his home.