Gene Pitney found dead in hotel Wrote 'He's a Rebel,' sang 'Town Without Pity'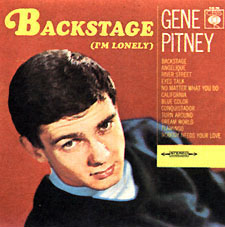 posted 2006-04-05 12:45:51 by dmcnelis





Wednesday, April 5, 2006; Posted: 11:19 a.m. EDT (15:19 GMT)
LONDON, England (CNN) -- Gene Pitney, the singer and songwriter known for 1960s hits such as "Town Without Pity" and "24 Hours from Tulsa," has died while on a UK concert tour, his agent said.
Pitney, 65, was found dead just after 10 a.m. Wednesday (0500 ET) at the Hilton Hotel in Cardiff, Wales.
His agent, Jene Levy, told Reuters Pitney died on Wednesday morning after given a concert in the Welsh capital the previous day.
There was no immediate word on the cause of death. Friends said he was in apparent good health and his death came as a shock.
"We don't have a cause of death at the moment but looks like it was a very peaceful passing," said Pitney's tour manager, James Kelly, according to The Associated Press.
"He was found fully clothed, on his back, as if he had gone for a lie down. It looks as if there was no pain whatsoever."
South Wales police said they had been called to a hotel at 9:50 a.m. on Wednesday morning and that the death was not being treated as suspicious.
Pitney was born in Hartford, Connecticut, on February 17, 1941.
His 40-year career included hits such as "It Hurts to Be in Love," "(The Man Who Shot) Liberty Valance," "Every Breath I Take," "Town Without Pity," "Only Love Can Break a Heart" and the operatic "I'm Gonna Be Strong." His last U.S. hit was "She's a Heartbreaker" in 1968.
Pitney was also a highly regarded songwriter -- he wrote the Crystals' No. 1 hit, "He's a Rebel," Rick Nelson's smash "Hello Mary Lou" and Bobby Vee's "Rubber Ball." Some of his own hits, though -- "Only Love," "Liberty Valance" and "Tulsa" -- were written by Burt Bacharach and Hal David.
He was an early subject of Phil Spector's Wall of Sound -- Spector produced Pitney's version of Carole King and Gerry Goffin's "Every Breath I Take" as well as the Crystals' "He's a Rebel" -- and an early supporter of British bands such as the Rolling Stones.
Pitney recorded Mick Jagger and Keith Richards' "That Girl Belongs to Yesterday" and attended the session at which the Stones recorded "Not Fade Away," according to Allmusic.com.
Pitney was introduced to a new generation of fans in 1989 when he recorded "Something's Gotten Hold Of My Heart" as a duet with Marc Almond, the UK's Press Association reported.
The single gave Pitney his first UK No. 1 -- 22 years after its first release, PA added.
In 2002 he was inducted into the Rock and Roll Hall of Fame.
Pitney's agent told Reuters that his wife, Lynne, had been told of his death. Pitney also leaves three sons, David, Todd and Chris.
Copyright 2006 CNN. All rights reserved.This material may not be published, broadcast, rewritten, or redistributed. Associated Press contributed to this report.