Ventriloquist Rickie Layne Dies at 81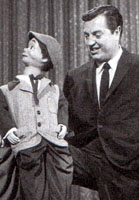 posted 2006-02-26 19:13:51 by stevemay





LOS ANGELES -- Rickie Layne, a ventriloquist who frequently appeared on "The Ed Sullivan Show" with his Yiddish-accented dummy Velvel, has died at the age of 81.
Layne died Feb. 11 of heart failure at Tarzana Hospital, family members said.
Singer Nat "King" Cole discovered Layne in 1955 at Ciro's nightclub on the Sunset Strip and urged Sullivan to put the act on his popular Sunday night variety show.
Cole even made an unusual guarantee: if Layne bombed, Cole would appear on the show for free.
Layne made his Sullivan debut on Jan. 1, 1956, and returned several dozen times. Sullivan was such a fan that he often got into the act himself, serving as straight man for the dummy that called the typically stone-faced host "Ed Solomon."
During one appearance, Sullivan told Velvel that he had bought him a dog as a gift, but Velvel said he hated dogs.
"I used to be a tree!" Velvel explained.
Layne's Sullivan show appearance increased demand for him at clubs across the country, including venues in New York, Chicago, Miami Beach and Las Vegas. In 2002, the International Ventriloquist Association gave him a lifetime achievement award.
He was born Richard Israel Cohen, the son of Russian immigrants. His mother was a popular vaudeville comic billed as Gypsy Sonya. Layne began entertaining at age 9 and toured as a ventriloquist in his teens.
His wife of 56 years, LaRue, died in 2002. Layne is survived by three daughters and four granddaughters.