Don Knotts, star of 'The Andy Griffith Show,' dead at 81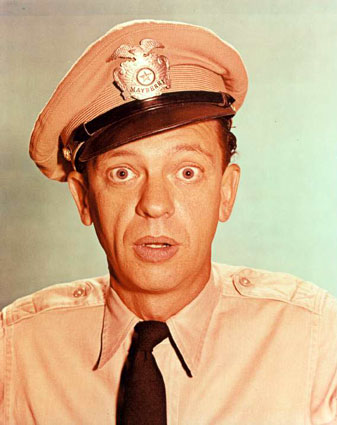 posted 2006-02-25 18:40:07 by doug





Don Knotts, the saucer-eyed, scarecrow-thin comic actor best known for his roles as the high-strung small-town deputy Barney Fife on the 1960s CBS series "The Andy Griffith Show" and the leisure-suit-clad landlord Ralph Furley on ABC's '70s sitcom "Three's Company," has died. He was 81.
Knotts, who lived in West Los Angeles, died Friday night of lung cancer at Cedars Sinai Medical Center in Los Angeles, according to Sherwin Bash, his longtime manager.
Family members said that his longtime friend Griffth was one of his last visitors at Cedars on Friday night.
Despite health problems, Knotts had kept working in recent months. He lent his distinctive, high-pitched voice as Turkey Mayor in Walt Disney's animated family film "Chicken Little," which was released in November 2005. He also did guest spots in 2005 on NBC's "Las Vegas" and Fox's "That '70s Show." He occasionally co-headlined in live comedy shows with Tim Conway, his sometime co-star in Disney films such as "The Apple Dumpling Gang." Knotts also appeared as the TV repairman in director Gary Ross's whimsical 1998 comedy "Pleasantville," and voiced the part of T.W. Turtle in the 1997 animated feature "Cats Don't Dance."
As he grew older, Knotts became a lodestar for younger comic actors. The new generation came to appreciate his highly physical brand of acting that, at its best, was in the tradition of silent-film greats such as Buster Keaton, Stan Laurel and Harold Lloyd.
Knotts first rose to prominence in the late 1950s, joining Louis Nye and other comedy players on "The Steve Allen Show." In 1961, United Artists Records released a comedy album entitled "Don Knotts: An Evening with Me," which featured various takeoffs on the "nervous man" routine the comic had made famous on Allen's show. One of the bits, "The Weatherman," concerned a TV forecaster forced to wing it after the meteorology report fails to make it to the studio by air time.
During the mid to late 1960s, in a largely unsuccessful bid for major film stardom, Knotts made a series of family films that many connoisseurs now say were critically underappreciated at the time. These include "The Incredible Mr. Limpet" (1964), "The Ghost and Mr. Chicken" (1966) and "The Reluctant Astronaut" (1967). The latter two were made as part of a five-picture deal with Universal Pictures.
"Limpet," the tale of a meek man who is transformed into a fish, has particularly won recent acclaim. Its early mix of live action and animation was a forerunner of such later films as "Who Framed Roger Rabbit?" and "Space Jam."
At one point, Jim Carrey was said to be considering starring in a "Limpet" remake, although the project has yet to materialize. Once, when Knotts visited the set of "How the Grinch Stole Christmas," Carrey paid tribute. "I went to him, and I was just like, 'Thank you so much for "The Ghost and Mr. Chicken,"' Carrey later told an interviewer. " 'I watched it a hundred times when I was a kid.' "
Martin Short has likewise hailed Knotts as a major influence, and at least one of Short's recurring characters, shifty-eyed lawyer Nathan Thurm, owes a debt to Knotts' "nervous man" character, created for "The Steve Allen Show" in the 1950s.
Many TV viewers remember Knotts as Ralph Furley, the ascot-wearing middle-aged landlord who mistakenly viewed himself as a swinger on ABC's hit sex farce "Three's Company." The series starred the late John Ritter as Jack Tripper, a chef who pretended to be gay in order to share an apartment with two attractive young women. The plot of many episodes hinged on Tripper struggling to keep his secret from an ever-suspicious (and homophobic) Furley. Knotts introduced the character in 1979, during the show's fourth season, when the original landlords (Norman Fell and Audra Lindley) had departed for their own spin-off, "The Ropers."
For Knotts, who typically worked in Disney comedies and other family-friendly fare, appearing in a sex comedy — then decried by critics as "jiggle TV" -- constituted a major departure. But he stayed with "Three's Company" until it went off the air in 1984 after eight seasons.
However, it was his portrayal of Barney Fife — a role for which he won five Emmy Awards -- that immortalized Knotts to TV viewers. Deputy Fife, an inveterate bumbler, was not in the series pilot, and was at first intended simply to be part of a large ensemble that would surround Griffith, who played Sheriff Andy Taylor in Mayberry, a fictional North Carolina town near Raleigh.
But not long after the series debuted in October 1960, Knotts stole the show. Griffith, who was meant to be the series' comic focus, shifted to playing straight man. The writers began beefing up Fife's role and creating episodes that depended on the sheriff rescuing Fife from his latest predicament. "Andy Griffith" was the most popular comedy on television during its first season, and never dropped from the Top 10 for the rest of its eight-year run.
In Knotts' hands, Fife was a fully realized stooge, a hick-town Don Quixote who imagined himself braver, more sophisticated and more competent than he actually was. His utter lack of self-control led him into desperate jams that usually culminated with Fife at the end of his rope, bug-eyed and panting with anxiety. Sheriff Taylor allowed his deputy to carry just one bullet, which he was obliged to keep separate from his service revolver due to past trigger mishaps.
Asked how he developed his most famous character, Knotts replied in a 2000 interview: "Mainly, I thought of Barney as a kid. You can always look into the faces of kids and see what they're thinking, if they're happy or sad. That's what I tried to do with Barney. It's very identifiable."
Jesse Donald Knotts was born in Morgantown, W.Va., on July 21, 1924, the youngest of four brothers. His family life was troubled; Knotts' father twice threatened his mother with a knife and later spent time in mental hospitals, while older brother Earl — nicknamed "Shadow" because of his thinness -- died of asthma when Knotts was still a teenager.
Years later, the actor did not recall his childhood fondly.
"I felt like a loser," he recalled in a 1976 interview with the Los Angeles Times. "I was unhappy, I think, most of the time. We were terribly poor and I hated my size."
Knotts turned to performing in his early teens, doing an Edgar Bergen-inspired ventriloquism act with a dummy he named Danny.