Al Lewis, the Cantankerous Grandpa of 'The Munsters', Is Dead at 95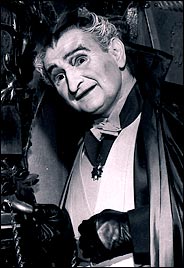 posted 2006-02-06 16:22:48 by davem





Al Lewis, the cigar-chomping patriarch of "The Munsters" whose work as a basketball scout, restaurateur and political candidate never eclipsed his role as Grandpa from the television sitcom, died on Friday after several years of failing health. He was 95 and lived on Roosevelt Island.
Bernard White, program director at WBAI-FM in New York City, where the actor was the longtime host of a weekly radio program, announced the death during the Saturday slot in which Mr. Lewis usually appeared.
Sporting a somewhat cheesy Dracula outfit, Mr. Lewis played the irascible father-in-law to Fred Gwynne's ever-bumbling Herman Munster on the 1960's series. He was also one of the stars of another classic TV comedy, playing Officer Leo Schnauzer on "Car 54, Where Are You?"
But Mr. Lewis also led many other lives off the small screen.
A ballplayer in high school, he achieved some fame as a basketball talent scout.
Later in life he operated a successful Greenwich Village restaurant, where he was a regular presence, chatting with customers, posing for pictures and signing autographs.
In 1998, just two years short of his 90th birthday, Mr. Lewis ran as the Green Party candidate against Gov. George E. Pataki.
Mr. Lewis campaigned against the death penalty and called for reforming drug laws, while fighting an ultimately unsuccessful legal battle to have his name appear on the ballot as "Grandpa Al Lewis." Though he did not defeat Mr. Pataki, he did collect more than 52,000 votes.
Mr. Lewis was born Alexander Meister upstate in Wolcott, N.Y., before his family moved to Brooklyn, where as a 6-foot-1 teenager he began a lifelong love affair with basketball.
He later became a vaudeville and circus performer, but his career took off with television.
As Officer Leo Schnauzer, Mr. Lewis played opposite Mr. Gwynne's Officer Francis Muldoon in "Car 54, Where Are You?" — a comedy about a Bronx police precinct that was broadcast from 1961 to 1963.
One year later, the two appeared together in "The Munsters," taking up residence together at the fictional 1313 Mockingbird Lane.
The series, about a family of clueless creatures plunked down in Middle America, was a success and ran through 1966.
It forever locked Mr. Lewis in as the memorably twisted character; decades later, strangers would greet him on the street with shouts of "Grandpa!"
Mr. Lewis never complained about getting typecast, and made appearances in character for decades. "Why would I mind?" he asked in a 1997 interview. "It pays my mortgage."
Mr. Lewis rarely slowed down, opening his restaurant and serving as host of his WBAI radio program. In the 90's, he was a frequent guest on the Howard Stern radio show, once sending Mr. Stern diving for the delay button by leading an undeniably obscene chant against the Federal Communications Commission.
He also popped up in a number of movies, including "They Shoot Horses, Don't They?" and "Married to the Mob."
He enjoyed a reprise of his role of Officer Schnauzer in the movie remake of "Car 54," and was a guest star on shows like "Taxi," "Green Acres" and "Lost in Space."
In 2003, Mr. Lewis was hospitalized for an angioplasty. Complications during surgery led to an emergency bypass and the amputation of his right leg below the knee and all the toes on his left foot. He spent the next month in a coma.
But a year later, he was back offering his recollections of a seminal punk band on a DVD called "Ramones Raw."
Mr. Lewis is survived by his wife, Karen Ingenthron-Lewis, three sons and four grandchildren.