Nam June Paik, 73, Dies; Pioneer of Video Art Whose Work Broke Cultural Barriers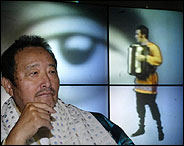 posted 2006-01-31 11:52:04 by davem





Nam June Paik, an avant-garde composer, performer and artist widely considered the inventor of video art, died Sunday at his winter home in Miami Beach. He was 73 and also lived in Manhattan.
Mr. Paik suffered a stroke in 1996 and had been in declining health for some time, said his nephew, Ken Paik Hakuta, who manages his uncle's studio in New York.
Mr. Paik's career spanned half a century, three continents and several art mediums, ranging through music, theater and found-object art. He once built his own robot. But his chief means of expression was television, which he approached with a winning combination of visionary wildness, technological savvy and high entertainment values. His work could be kitschy, visually dazzling and profound, sometimes all at once, and was often irresistibly funny and high-spirited.
At his best, Mr. Paik exaggerated and subverted accepted notions about both the culture and the technology of television while immersing viewers in its visual beauty and exposing something deeply irrational at its center. He presciently coined the term "electronic superhighway" in 1974, grasping the essence of global communications and seeing the possibilities of technologies that were barely born. He usually did this while managing to be both palatable and subversive. In recent years, Mr. Paik's enormous American flags, made from dozens of sleek monitors whose synchronized patterns mixed everything from pinups to apple pie at high, almost subliminal velocity, could be found in museums and corporate lobbies.
Mr. Paik was affiliated in the 1960's with the anti-art movement Fluxus, and also deserves to be seen as an aesthetic innovator on a par with the choreographer Merce Cunningham and the composer John Cage. Yet in many ways he was simply the most Pop of the Pop artists. His work borrowed directly from the culture at large, reworked its most pervasive medium and gave back something that was both familiar and otherworldly.
He was a shy yet fearless man who combined manic productivity and incessant tinkering with Zen-like equanimity. A lifelong Buddhist, Mr. Paik never smoked or drank and also never drove a car. He always seemed amused by himself and his surroundings, which could be overwhelming: a writer once compared his New York studio to a television repair shop three months behind schedule.
Mr. Paik is survived by his wife, the video artist Shigeko Kubota.