Coretta Scott King dies at 78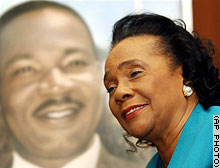 posted 2006-01-31 07:56:07 by doug





ATLANTA, Georgia -- Coretta Scott King, who turned a life shattered by her husband's assassination into one devoted to enshrining his legacy of human rights and equality, has died, former Atlanta Mayor Andrew Young said Tuesday morning.
She was 78.
Young, who was a former civil rights activist and was close to the King family, broke the news during a phone call he made to NBC's "Today" show.
Asked how he found out about her death, Young said: "I understand she was asleep last night, and her daughter tried to wake her up."