Wendy Wasserstein, Chronicler of Women's Identity Crises, Dies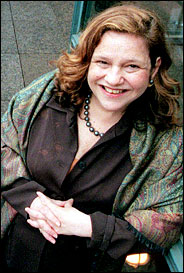 posted 2006-01-30 14:13:38 by DaveM





Wendy Wasserstein, who spoke for a generation of smart, driven but sometimes unsatisfied women in a series of popular plays that included the long-running Pulitzer Prize winner "The Heidi Chronicles," died today after a bout with lymphoma, Lincoln Center Theater announced. She was 55.
Starting in 1977 with her breakthrough work "Uncommon Women and Others," Ms. Wasserstein's plays struck a profound chord with women struggling to reconcile a desire for romance and companionship, drummed into the baby boom generation by the seductive fantasies circulated by Hollywood movies, with the need for intellectual independence and a sense of achievement separate from the personal sphere.
Her heroines — intelligent and successful but also riddled with self-doubt — sought enduring love a little ambivalently, but they did not always find it, and their hard-earned sense of self-worth was often shadowed by the frustrating knowledge that American women's lives continued to be measured by their success at capturing the right man.
Ms. Wasserstein drew on her own experience as a smart, well-educated, funny Manhattanite who was not particularly lucky in romance to create heroines in a similar mold, women who embraced the essential tenets of the feminist movement but did not have the stomach for stridency.
For Ms. Wasserstein, as for many of her characters and indeed her fans, humor was a necessary bulwark against the disappointments of life, and a useful release valve for anger at cultural and social inequities.
Her work, which included three books of nonfiction and a forthcoming novel as well as about a dozen plays, had a significant influence on depictions of American women in the media landscape over the years: Heidi Holland, the steadily single, uncompromising heroine of "The Heidi Chronicles," can be seen as the cultural progenitor of "Sex and the City's" Carrie Bradshaw. (Coincidentally, Sarah Jessica Parker, who starred in that HBO series, played a series of small roles in the original production of "The Heidi Chronicles.")
Ms. Wasserstein, who grew up in New York, recalled attending Broadway plays as a young woman and being struck by the absence of people like herself onstage: "I remember going to them and thinking, I really like this, but where are the girls?" Ms. Wasserstein would fill the stage with "girls" — a term she used with a wink despite taking flak for it — in a series of plays that pleased her loyal audiences even when the critics did not always embrace them.
"The Heidi Chronicles," her most celebrated and popular play, opened on Broadway in 1989 after receiving critical acclaim Off Broadway. It ran for 622 performances and collected the Tony and New York Drama Critics Circle awards for best play, as well as the Pulitzer Prize. The play, in which Joan Allen created the title role, toured nationally and was later filmed for television with Jamie Lee Curtis.
Reviewing the play in Newsday, Linda Winer called it "a wonderful and important play. Smart, compassionate, witty, courageous, this one not only dares to ask the hard questions ... but asks them with humor, exquisite clarity and great fullness of heart."
Ranging across more than two decades, "The Heidi Chronicles" was an episodic, seriocomic biography of an art historian seeking to establish a fixed and fulfilling sense of identity amid the social convolutions of the 1960's and 70's, a period when the rulebook on relationships between men and women was being rewritten.
Heidi's allegiance to her ideals and her unwillingness to compromise them for the sake of winning a man's attentions caused conflict with friends who chose easier or different paths. Looking around at her materialistic, married, self-obsessed peers two decades after the exhilarating birth of feminism, Heidi observes: "We're all concerned, intelligent, good women. It's just that I feel stranded. And I thought the whole point was that we wouldn't feel stranded. I thought the point was that we were all in this together."
In the play's bittersweet final scene, Heidi has become a single mother to a new infant — a path Ms. Wasserstein would herself choose to pursue many years later, ultimately at great physical cost, when she gave birth to her daughter, Lucy Jane, at age 48 in 1999.