Shelley Winters, Winner of Two Oscars, Dies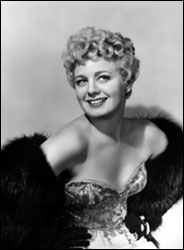 posted 2006-01-15 02:38:41 by davem





Shelley Winters, who once described her life as a "rocky road out of the Brooklyn ghetto to one New York apartment, two Oscars, three California houses, four hit plays, five Impressionist paintings, six mink coats and 99 films," died yesterday. She was 83, although some sources say she was 85.
Ms. Winters died of heart failure at the Rehabilitation Centre of Beverly Hills, her publicist, Dale Olson, said. She had been hospitalized in October after suffering a heart attack.
A major movie presence for more than five decades, Shelley Winters turned herself from a self-described "dumb blond bombshell" in B pictures to a widely respected actress who was nominated four times for Academy Awards.
Her first Oscar, for best supporting actress, was for her performance in "The Diary of Anne Frank" (1959) as the middle-age Mrs. Van Daan, one of eight Dutch Jews hiding from the Nazis in an attic.
She won again for best supporting actress as the vicious mother of a blind girl in "A Patch of Blue" (1965).
After a series of bit parts, Ms. Winters received her first big break as the waitress who was strangled by Ronald Colman's jealous actor in "A Double Life" in 1947.
Four years later, she dyed her hair brown, rubbed the polish off her fingernails, and convinced the director George Stevens that she could play the mousy factory girl who was made pregnant and then drowned by Montgomery Clift so that he could marry the rich Elizabeth Taylor in "A Place in the Sun." She was nominated for an Academy Award as best actress for that performance.
Tough-talking and oozing sex appeal, Ms. Winters was blowzy, vulgar and often pathetically vulnerable in her early films. In movie after movie, she played working-class women who were violently discarded by men who had used them.
When her gullible waitress couldn't lead the hymn-singing preacher to a cache of stolen money in "The Night of the Hunter" (1955), he slit her throat.
As a rich man's poor mistress in "The Great Gatsby" (1949), she was casually run over by her lover's wife.
In Stanley Kubrick's "Lolita" (1962), James Mason married her to get close to her young daughter; when she finds this out she blindly runs in front of a car and is killed.
Even when she became the dominating force in many of her later movies, Ms. Winters often played vulnerable monsters. As Ma Barker in the 1970 cult classic "Bloody Mama" - in which she is first seen giving her four grown sons their Saturday-night baths - she was murderously maternal while brandishing a tommy gun.
Shrieking, shrewish, slutty or silly, Ms. Winters always seemed larger than life on screen. The critic Pauline Kael called her lovelorn culture-vulture Charlotte Haze in "Lolita" a "triumphant caricature, so overdone it recalls Blake's 'You never know what is enough until you know what is more than enough.' "
Off screen Ms. Winters lived with an equal gusto, which she captured in her best-selling 1980 autobiography, "Shelley, Also Known as Shirley," and in a second book, "Shelley II." With a hearty appetite for food and men, she was not hesitant about naming the actors with whom she had shared a bed, including Sean Connery, Errol Flynn, Farley Granger, Sterling Hayden, William Holden and Burt Lancaster. Ms. Winters and Mr. Holden had a "Same Time, Next Year" relationship, meeting in his Paramount dressing room on Christmas Eve for five years. Her two- year relationship with Mr. Lancaster was more serious. She ended the affair when the actor's wife became pregnant with his third child.
She was born Shirley Schrift in St. Louis on Aug. 18, 1922, according to many sources, though others give her birth year as 1920. Her stage name came from the poet Percy Bysshe Shelley and from her mother, Rose Winter, an amateur soprano who had once won a Municipal Opera contest in St. Louis. Her father, like many immigrants in the early 20th century, came to the United States in steerage. Her mother, a first-generation American, was born in St. Louis. The Schrifts soon moved to Brooklyn, where Ms. Winters grew up.
When her father went to Sing Sing for arson (he was exonerated later), 9-year-old Shirley retreated into a fantasy world that, Ms. Winters wrote, "has been a powerful tool in my acting" but "used to play hell with my real life." In junior high school she discovered she could sneak into Broadway theaters during Wednesday matinees; she never again went to school on Wednesday afternoons.
As a teenager, wearing high heels borrowed from her older sister, Blanche, and with six powder puffs stuffed into her bra, she auditioned during a nationwide search for an actress to play Scarlett O'Hara in "Gone With the Wind." The director George Cukor was kind. Go to acting school, he told her, and become known on the New York stage. She took his advice. Less than a decade later, Cukor cast Ms. Winters as the sexy waitress who serves more than dinner in "A Double Life."
A high school dropout, Ms. Winters modeled in the garment industry by day and attended the New Theater School at night, and spent two summers doing sketches on the borscht circuit in the Catskills. She got hired for the chorus of Broadway musicals because she was funny and could sing, but then she got fired because she couldn't dance. She landed a part in the national company of "Meet the People" in 1941.
Soon afterward, Max Reinhardt was preparing "Rosalinda," his English-language version of "Die Fledermaus." Charmed by the brash Brooklyn girl who had no idea she was auditioning for an opera, the director gave her a small comic role, which he kept enlarging. When the president of Columbia Pictures, Harry Cohn, saw the show, he arranged for a screen test.
Hollywood was not immediately overwhelmed. As a Columbia contract player earning $100 a week, Ms. Winters made her 1943 film debut with one line in "What a Woman!" She took acting lessons at the studio and joined the Actor's Lab to study real acting at night.
Ms. Winters played a harem girl in "A Thousand and One Nights" (1945), was lent to Samuel Goldwyn to play the heroine's younger sister in the film version of "Knickerbocker Holiday" (1944) and was jettisoned by Columbia after a year for not being "movie material."
Finally, "A Double Life" gave her a lift. "To this day I feel that getting 'A Double Life' was a miracle," she wrote in her autobiography. "So much of a successful career depends on standing on the right corner at the exact right moment."
A seven-year contract with Universal Studios was the reward for her performance in "A Double Life." Ms. Winters played gangsters' girlfriends ("Larceny," "Johnny Stool Pigeon"); a bad-girl cabaret singer whose piano player is Liberace ("South Sea Sinner"); the Marlene Dietrich role in a warmed-over-lightly version of "Destry Rides Again" ("Frenchie"); a better-quality nightclub singer who is the object of Frank Sinatra's affections ("Meet Danny Wilson"); a waitress in the Old West married to bad guy ("Untamed Frontier"), and a number of other good/bad girls. As a dance-hall girl In "Winchester '73," her co-stars were James Stewart and a rifle.
For a while, Ms. Winters shared an apartment in Hollywood with a painfully insecure Marilyn Monroe. At night Ms. Winters studied acting with Charles Laughton, who borrowed her from Universal while he directed "The Night of the Hunter."
In 1955 Ms. Winters returned to New York. She formally joined the Actors Studio (she had sat in on classes a few years earlier) and starred on Broadway with Ben Gazzara and Anthony Franciosa in the Studio-created hit play "A Hatful of Rain," about the taboo subject of drug abuse.
During the 1960's Ms. Winters found her métier as a character actress. In addition to her Oscar-winning roles, she played the mother of a murderer in "The Young Savages" (1961); a middle-age woman who throws away a happy marriage for a handsome young man in "The Chapman Report" (1962); Michael Caine's voracious bedmate in "Alfie" (1966), and an ex-movie star who has made a bad choice in husbands in "Harper" (1966).
Ms. Winters's fourth and last Oscar nomination came in 1972, for her supporting role in "The Poseidon Adventure." She played a former swimming champion who sacrifices her life to help save fellow passengers on a doomed ship, although reviewers found it hard to accept the stout Ms. Winters in the part. The publicity department at 20th Century Fox announced that the studio had told Ms. Winters to gain 30 pounds for her role in "The Poseidon Adventure." But by the 1970's she had simply lost her lifelong struggle to control her weight.
Ms. Winters never stopped working, dividing her time among movies, plays and television. In films she played the witch in "Whoever Slew Auntie Roo?" (1971); the perfect Jewish mother in "Next Stop, Greenwich Village" (1976); the mother of a fat boy in "Heavy" (1995); and Nicole Kidman's selfish aunt in Jane Campion's "Portrait of a Lady" (1996). In the sitcom "Roseanne" she played Roseanne's grandmother. An early marriage during World War II to an Army Air Force captain, Paul Mayer, lasted until the war ended. Ms. Winters married the Italian actor Vittorio Gassman in 1952. The couple divorced in 1954 after the birth of her daughter and only child, Vittoria, who is now a physician working in Connecticut. In 1957 Ms. Winters married Mr. Franciosa, her co-star in "A Hatful of Rain." That marriage ended in 1960. Ms. Winters is survived by her companion of 19 years, Jerry DeFord; her daughter, Dr. Vittoria Gassman of Norwalk, Conn.; and two grandchildren.
If, during her last years, Ms. Winters fit more comfortably into a muumuu than a sheath, she never lost her sense of laughing delight in what the world had given a poor girl from Brooklyn. In 1996 she defined herself to an interviewer as "a senior-citizen sex bomb." She added: "I get 1,000 letters a month. I send people a postcard of myself in short hair and a checkered blouse that was taken 50 years ago."