Berenstain Bears co-creator dead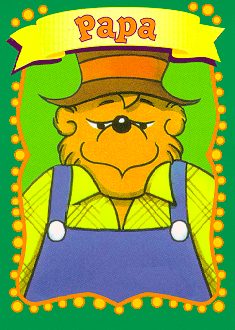 posted 2005-11-29 16:23:57 by arnoldam





Stan Berenstain, who with his wife created the popular children's books about the Berenstain Bears, has died.
He was 82 and lived in Bucks County. He died in Pennsylvania on Saturday, said Audra Boltion, a spokeswoman for HarperCollins Children's Books in New York.
In more than 200 books, the Berenstain Bears, written and illustrated by Stan and Jan Berenstain, helped children for 40 years cope with trips to the dentist, eating junk food and cleaning their messy rooms.
The first Berenstain Bears book, "The Great Honey Hunt," was published in 1962. The couple developed the series with children's author Theodor Geisel -- better known as Dr. Seuss, then head of children's publishing at Random House -- with the goal of teaching children to read while entertaining them.
Despite changes in society in the last four decades, little has changed in "Bears Country."
"Kids still tell fibs and they mess up their rooms and they still throw tantrums in the supermarket," Stan Berenstain told The Associated Press in 2002. "Nobody gets shot. No violence. There are problems, but they're the kind of typical family problems everyone goes through."
Stan and Jan Berenstain began drawing together when they met at Philadelphia Museum School of Industrial Art in 1941.
The two married soon after he got out of World War II-era Army service and began submitting cartoons to magazines. They became contributors to The Saturday Evening Post, McCalls and Collier's.
They got into the book business when an editor at a New York publishing house who enjoyed their magazine cartoons asked if they would like to do a book, according to their Web site.
Their sons Leo and Michael joined them, and many of the recent books are credited collectively to "The Berenstains."
The characters are the subject of their own public television program, DVDs and a Christmas musical.