Ralph Edwards, Who Made Lives Into Shows, Dies at 92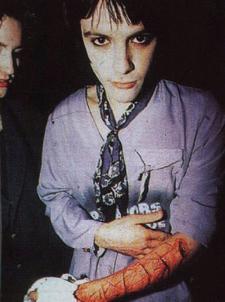 posted 2005-11-16 21:04:53 by stevemay





Ralph Edwards, the broadcast pioneer who was the creator and master of ceremonies of two of the most popular programs in entertainment history, "Truth or Consequences" and "This Is Your Life," died today at 92.
Mr. Edwards, whose career in radio and television spanned more than seven decades, died in his sleep this morning surrounded by relatives at his West Hollywood home, his publicist, Justin Serement, told The Associated Press.
"This Is Your Life," which began as a radio program in the late 1940's, was originally seen on television from 1952 to 1961, and was reprised for years after in syndication, becoming something of an American institution. Not only did viewers watch it every week, but they also imitated it: for generations variations of "This Is Your Life" have been part of many family reunions, anniversary celebrations and theme parties.
"This Is Your Life" laid bare the lives of unwitting ordinary people whom the producers judged worthy of profiling as well as the lives of celebrities, but it is the celebrities who are most remembered. Every installment followed a tried-and-true formula. Mr. Edwards would approach a subject, who happened to be not far from the program's studio in Hollywood, and exclaim, "Tonight, this is your life!"
Ralph Livingstone Edwards was born on June 13, 1913, in Merino, Colo., the son of Henry Livingstone Edwards, a farmer of modest means, and the former Minnie May Brown. The Edwards family moved to Oakland when he was 13; three years later, when he was a high school junior, Mr. Edwards wrote a skit that attracted the attention of the manager of radio station KROW, who hired him to write scripts at $1 each.
In 1931, after graduating high school, Mr. Edwards entered the University of California at Berkeley, where he majored in English. He thought he might like to become an English teacher. But he continued to be drawn to broadcasting and after he completed his undergraduate education, he worked as an actor, writer, announcer and producer for two San Francisco stations.
In 1936, he made his way to New York, where he freelanced as an announcer for both CBS and NBC. By 1939, he was announcing 45 shows a week. His was the voice heard on "The Fred Allen Show," "The Lucky Strike Hit Parade," "Major Bowes' Original Amateur Hour" and "Life Can Be Beautiful." He was also the familiar voice on programs featuring Emily Post and Phil Baker, the comedic accordionist.
After he sold the idea for "Truth or Consequences" to NBC in 1940 and masterminded its huge success, he did no more staff announcing. In 1941, he did a trial performance of "Truth or Consequences" for the fledgling NBC Television. It was broadcast at a time when few people had television sets, but it did carry a commercial for Bulova watches ($9 for a 10-second spot). So popular was the show over the years that in 1950, the community of Hot Springs, N.M., changed its name to "Truth or Consequences," after Mr. Edwards invited small towns around the country to consider such a name change to mark the program's 10th anniversary.
In 1945, Mr. Edwards moved "Truth or Consequences" from New York to Los Angeles because he had been signed by RKO to appear in a movie, "7 Days Leave." He also did some acting on radio shows during this period, including "Stars on Parade" (1947), "Bamboo Blonde" (1948) and "Beat the Band" (1949).
Mr. Edwards was regarded as one of the most successful creators of radio and television shows and he remained active until late in his life. Among his many other well-known shows were "Name That Tune," "Superior Court" and "The People's Court."
Mr. Edwards was married to the former Barbara Jean Sheldon of Redding, Conn. She died in 1993. He is survived by his son Gary; two daughters, Christine Tandy of Salem, Oregon, and Lauren Lenhart of Los Gatos, Calif., and four grandchildren.
In all the years that he was the producer and host of "This Is Your Life," Mr. Edwards's staff never prepared a surprise show about their boss.
"They know they'd better not," Mr. Edwards said. "It would mean instant dismissal for everyone."
He did say, however, that he loved the life he led: "It's the greatest life of anybody I know.