Wrestling star Eddie Guerrero found dead in hotel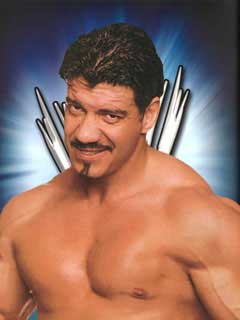 posted 2005-11-14 13:03:56 by DaveM





Pro-wrestling star Eddie Guerrero, also known as Latino Heat and Black Tiger, has been found dead in a Minneapolis hotel room.
Authorities say the World Wrestling Entertainment star didn't answer a wake-up call on Sunday morning. His nephew, WWE wrestler Chavo Guerrero, and hotel security forced their way into his room just after 7 a.m. local time.
Police say there were no apparent signs of foul play and an autopsy is underway to determine how the 38-year-old married father of three died.
His nephew said Guerrero had been sober for four years, having been candid about his past drug and alcohol abuse. In May 2004, UPN aired the special Cheating Death, Stealing Life: The Eddie Guerrero Story, chronicling his childhood and struggle with drugs, which almost cost him his job, family and life.
"This is a huge loss," said WWE chair Vince McMahon at a news conference. "Eddie was a wonderful, fun-loving human being."
Guerrero was considered one of the bigger personalities on the WWE Smackdown! shows. Last year, he became the second wrestler of Hispanic background to become champion.
Chavo Guerrero said the last time he spoke to his uncle, they had made plans to order breakfast and hit the gym Sunday morning. He said things seemed to be fine with his uncle.
The two were in Minneapolis to shoot Smackdown! episodes along with 60 other wrestlers.
McMahon said there would be special tributes to Guerrero at the tapings.
"Eddie was different in that he was very well liked," Wade Keller, editor of the weekly Pro Wrestling Torch, told the Minneapolis Star-Tribune. "He was so emotional. He didn't shake hands. He hugged."
Keller said Guerrero boosted the popularity of wrestling among Hispanics.
The son of wrestler Gory Guerrero, Eduardo Gory was born in 1967 into Mexico's first family of professional wrestling, growing up in El Paso, Texas. He and his three older brothers were all wrestlers.