John Fowles, British Author of Ambiguous Endings, Dies at 79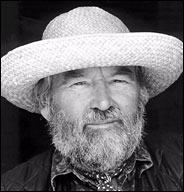 posted 2005-11-07 21:07:28 by DaveM





John Fowles, the British writer whose teasing, multilayered fiction explored the tensions between free will and the constraints of society, even as it played with traditional novelistic conventions and challenged readers to find their own interpretations of his work, died on Saturday at his home in Lyme Regis, England. He was 79.
His death was announced by his publisher, Random House U.K. No cause was given, but Random House said that Mr. Fowles, who suffered a stroke in the late 1980's and had heart problems, had been ill for some time.
Mr. Fowles's originality, versatility and skill were nowhere more evident than in his most celebrated novels, among them "The Collector," "The Magus" and "The French Lieutenant's Woman."
In "The French Lieutenant's Woman," for instance, he combined the story and melodrama of a 19th-century Victorian novel with the sensibility of a 20th-century postmodern narrator, offering his readers two alternative endings from which to choose, and at one point boldly inserting himself into the book as a character who accompanies its hero on a train to London.
In "The Collector," Mr. Fowles painted an eerily plausible portrait of a psychopath who kidnaps a young woman out of what he imagines is love, telling the story from the two characters' opposing points of view until, at the end, the narratives converge with a shocking immediacy.
And in "The Magus," the story of a young Englishman who gets caught up in the frightening dramatic fantasies of a strangely powerful man on an Aegean island, he again wrote an ending of self-conscious ambiguity, leaving the hero's future an open puzzle that readers are challenged to solve for themselves.
"Fowles's success in the marketplace derives from his great skill as a storyteller," wrote Ellen Pifer in the "Dictionary of Literary Biography." "Remarkably, he manages to sustain such effects at the same time that, as an experimental writer testing conventional assumptions about reality, he examines and parodies the traditional devices of storytelling."
He lived a quiet, contemplative, even reclusive, life in an old Dorset house in Lyme Regis that overlooked the English Channel, throwing himself into his writing and the natural world while developing a reputation as a bit of a grouch, a writer who shunned the public eye and did not look kindly on the tendency of his readers to track him down and invite him out for a drink.
"I know I have a reputation as a cantankerous man of letters and I don't try and play it down," he told The Guardian newspaper in 2003. "A writer, more or less living on his own, will be persecuted by his readers. They want to see you and talk to you. And they don't realize that very often that gets on one's nerves."
At the height of his success in the 1960's and 70's, Mr. Fowles was regarded by many as the English-speaking world's greatest contemporary writer and its first postmodern novelist, but his work became less fashionable in his later years. He published his last novel, "A Maggot," in 1985, although he told an interviewer in 1998 that he was working on another one.
John Fowles was born in Leigh-on-Sea, Essex, England, on March 31, 1926, the son of Robert J. Fowles, a prosperous cigar merchant, and his wife, the former Gladys Richards, a schoolteacher.