Mike Gibbins, Drummer for Badfinger, Dies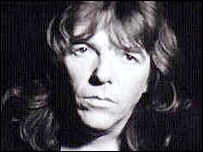 posted 2005-10-10 18:24:29 by DaveM





OVIEDO, FL -- Badfinger drummer Michael Gibbins has died at his Florida home at age 56.
An annoucement on his Web site said Gibbins died in his sleep Tuesday, but did not give the cause of death. A mememorial service was scheduled for Saturday in Oviedo, Fla.
Badfinger was the first act signed to the Beatles` Apple label in the 1960s and had a monster hit with Paul McCartney`s 'Come and Get It' in 1970.
Despite a handful of hits, Badfinger never lived up to expectations and frontman Pete Ham committed suicide April 23, 1975, Billboard.com said.
Bassist Tom Evans and guitarist Joey Molland formed a new Badfinger lineup in 1978, but after years of infighting, Evans, too, committed suicide Nov. 19, 1983.
Mullond told Billboard.com he talked to Gibbins the day before his death and he seemed 'in good spirits.'
The two had plans to meet up Oct. 17 at a Los Angeles party celebrating the release of George Harrison`s 1972 'Concert for Bangladesh' on CD and DVD.
'Mike and I had a falling out some time ago but we had been very much in touch with each other over the last five or six months, I`m happy to say, and we were starting to talk about the future.'