Tommy Bond, 79, Bully in 1930's 'Our Gang' Movies, Dies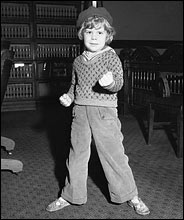 posted 2005-09-26 15:58:35 by stevemay





LOS ANGELES -- Tommy Bond, who played Butch the bully in the "Our Gang" and "The Little Rascals" serials of the 1930's, died on Saturday at a hospital in the San Fernando Valley. He was 79.
The cause was complications from heart disease, said his manager, Frank Marks.
Mr. Bond first played a member of the Gang named Tommy. After his first year he was dropped from the cast but returned later in the role of Butch, the archenemy of Alfalfa.
Mr. Bond appeared in numerous "Our Gang" and "Little Rascals" features before outgrowing the role. The show was notable for the natural way it treated its subjects, a group of poor children, and was one of the first to cast boys and girls, blacks and whites, as equals.
Thomas Ross Bond was born in Dallas on Sept. 16, 1926. He got his start at age 5 when a talent scout for Hal Roach studios approached him as he was leaving a movie theater with his mother. The scout asked him if he'd be interested in acting, Mr. Marks said, and added that he had a great face and that he could set up an appointment with Hal Roach in Los Angeles.
His grandmother drove him in what, at the time, was a rugged journey. "It was all dirt roads from Dallas to L.A.," Mr. Marks said.
In the 1940's, Mr. Bond played Jimmy Olsen in two Superman movies and appeared as Joey Pepper in several installments of the "Five Little Peppers" serial.
In 1951, Mr. Bond quit acting and went into television directing and production work, before retiring in 1991.
Mr. Bond is survived by his wife, Pauline; a son, Thomas Ross Bond III; and a grandson.