Ibrahim Ferrer Dead at 78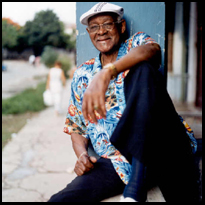 posted 2005-08-08 15:21:46 by dmcnelis





HAVANA -- World-renowned Cuban vocalist Ibrahim Ferrer, best known for his part in the wildly popular Buena Vista Social Club, died Saturday of multiple organ failure.
Easily recognizable by his hip Kangol cap and gray moustache, Ferrer began singing at the ripe young age of 14, and capped his career at the ripe old age of 72 with-- of all things-- a Best New Artist award at the Latin Grammys. In 2000. Did we mention he was 72?
As his career began, Ferrer had success singing with big bands, but between the late 1950s and early 1990s he shined shoes and sold peanuts in Havana to make ends meet. When legendary chameleon-slash-guitarist Ry Cooder approached him and others to form the Social Club, a collective of Cuban musicians largely silenced by you-know-who, Ferrer initially declined, later telling Nonesuch Records' that "I felt... disappointed by my life in music." He did change his mind, though, and his clear, passionate falsetto and flair for improvisation were a perfect match for the collective's jazzy Latin sound.
The Club, having released only one album together, won the Grammy in 1998 for best traditional tropical Latin performance, and the documentary of their staggering rise to fame and fortune became a hit of its own and was nominated for an Academy Award. Not too shabby.
After a solo career consisting of two albums (the latter of which helped earn the aforementioned Latin Grammy), Ferrer occasionally went on tour, which is what he was doing this week before he fell ill. Ferrer suffered from emphysema, and had entered a hospital in Havana for treatment of gastroenteritis. He is survived by his wife of 33 years, Caridad Diaz, and countless fans and friends.