Peter Jennings, Urbane News Anchor, Dies at 67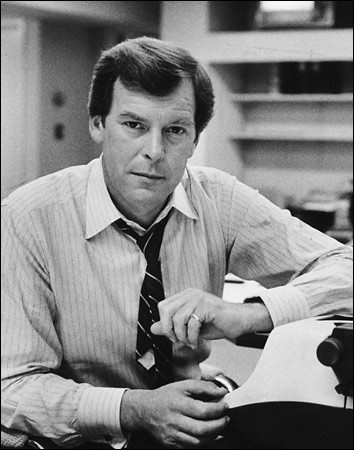 posted 2005-08-08 01:49:02 by stevemay





NEW YORK -- Peter Jennings, a high school dropout from Canada who transformed himself into one of the most urbane, well-traveled and recognizable journalists on American television, died yesterday. He was 67 and lived in Manhattan.
The cause was lung cancer, said Charles Gibson, who announced the death of his colleague on television in a special report just after 11:30 p.m. Mr. Jennings had disclosed that he was suffering from lung cancer on April 5, first in a written statement released by ABC and later that night on "World News Tonight," the evening news broadcast that he had led since September 1983.
In brief remarks at the end of that night's program, Mr. Jennings, his voice scratchy, told viewers that he hoped to return to the anchor desk as his health and strength permitted. But he never did.
It was a jarring departure for someone who for so long had been such a visible fixture in so many American homes each night. Along with the two other pillars of the so-called Big 3 - Tom Brokaw of NBC and Dan Rather of CBS - Mr. Jennings had, in the early 1980's, ushered in the era of the television news anchor as lavishly compensated, globe-trotting superstar. After the departure of Mr. Brokaw from his anchor chair in December, followed by the retirement from the evening news of Mr. Rather in March, Mr. Jennings's death brings that era to a close.
For more than two decades, the magnitude of a news event could be measured, at least in part, by whether Mr. Jennings and his counterparts on the other two networks showed up on the scene. Indeed, they logged so many miles over so many years in so many trench coats and flak jackets that they effectively acted as bookends on some of the biggest running stories of modern times.
Mr. Jennings's official ABC biography notes, for example, that as a foreign correspondent, he was "in Berlin in the 1960's when the Berlin Wall was going up," and there again, as an anchor, "in the 1990's when it came down." Similarly, he was on the ground in Gdansk, Poland, for the birth of the Solidarity labor and political movement, and later for the overthrow of the country's Communist government.
In addition to reporting from nearly every major world capital and war zone, Mr. Jennings also managed to report from all 50 states, according to the network. He seemed to draw on that collective experience - as well as his practiced ability to calmly describe events as they unfolded live -not long after two hijacked planes struck the World Trade Center on Sept. 11, 2001. Over the course of that day, and those that immediately followed, he would spend more than 60 hours on the air in what Tom Shales of The Washington Post, among other critics, praised as a tour de force of interviewing and explanatory broadcast journalism laced with undisguised bewilderment.
"This is what it looked like moments ago," Mr. Jennings said at one point that first morning, as he introduced a piece of videotape recorded moments earlier in Lower Manhattan. "My God! The southern tower, 10:00 Eastern Time this morning, just collapsing on itself. This is a place where thousands of people worked. We have no idea what caused this."
The coverage of all three broadcast networks that week underscored a maxim of the television news business: that however much the audience of the evening news programs might have eroded in recent years, viewers usually return during moments of crisis.
At the peak of his broadcast's popularity, in the 1992-1993 television season, Mr. Jennings drew an average audience of nearly 14 million people each night, according to Nielsen Media Research. He reached that milestone midway through an eight-year ratings winning streak, during which his audience sometimes exceeded those of both Mr. Brokaw and Mr. Rather by two million or more viewers. (For nearly a decade since, to his periodic frustration, his broadcast had lagged behind that of NBC's, even after Mr. Brokaw yielded to Brian Williams in December.)
Though the audience for the evening news has fallen precipitously in recent years - a casualty of changes in people's schedules and the competition offered by the cable news networks and the Internet - Mr. Jennings's broadcast (and those on CBS and NBC) still drew a combined audience of more than 25 million viewers this past year.
And however much his audience had aged - the median age of a Jennings viewer this past season was about 60, according to Nielsen - advertisers still spend in excess of $100 million annually on each of the evening news programs. Like Mr. Brokaw, Mr. Rather and now Mr. Williams, Mr. Jennings was well paid for his efforts: he earned an estimated $10 million a year in recent years. His most recent contract with the network was due to expire later this year , but at least until he became ill, the network was preparing to extend Mr. Jennings's time in the anchor chair for "several years to come," according to David Westin, president of ABC News.