King Fahd dies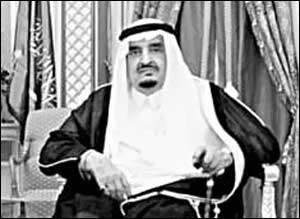 posted 2005-08-01 08:39:35 by stevemay





RIYADH -- Saudi Arabia's King Fahd died on Monday and Crown Prince Abdullah was swiftly pronounced monarch of the world's largest oil exporter and key US ally.
"With deep sorrow and pain, the royal court... mourns the death of The Custodian of the Two Holy Mosques King Fahd due to illness," said an official statement read out on state television.
A Saudi source said the kingdom's oil policy would not change after King Fahd's death.
Diplomats said they did not expect major changes in Saudi foreign policy under King Abdullah, who as crown prince has been running the day-to-day affairs of the Gulf Arab country since Fahd suffered a debilitating stroke in 1995.
The statement said Defence Minister Prince Sultan had become the kingdom's new crown prince. U.S. crude oil jumped up almost 50 cents a barrel after reports the king had died.
The Saudi stock market, the largest Arab bourse, suspended trading, a broker said.
Fahd, who was believed to be 83 and had been in poor health, had entered hospital on May 27 with acute pneumonia.
"The royal family members have acknowledged Crown Prince Abdullah as sovereign of the country ... after which the Custodian of the Two Holy Mosques and ruler of Saudi Arabia King Abdullah bin Abdul Aziz chose Prince Sultan as crown prince and the family members acknowledged that," the statement said.
In the past two years, the kingdom has faced a violent al Qaeda campaign to end seven decades of his royal family's rule in Saudi Arabia, home to Islam's holiest shrines.