Vietnam-era commander Westmoreland dead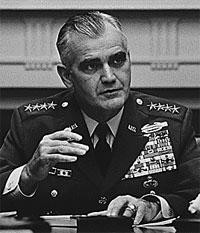 posted 2005-07-19 00:54:44 by stevemay





CHARLESTON, South Carolina -- Retired Gen. William Westmoreland, who commanded American troops in Vietnam -- the nation's longest conflict and the only war America lost -- died Monday night. He was 91.
Westmoreland died of natural causes at Bishop Gadsden retirement home, where he had lived with his wife for several years, said his son, James Ripley Westmoreland.
The silver-haired, jut-jawed officer, who rose through the ranks quickly in Europe during World War II and later became superintendent of West Point, contended the United States did not lose the conflict in Southeast Asia.
"It's more accurate to say our country did not fulfill its commitment to South Vietnam," he said. "By virtue of Vietnam, the U.S. held the line for 10 years and stopped the dominoes from falling."
He would later say he did not know how history would deal with him.
"Few people have a field command as long as I did," he said. "They put me over there and they forgot about me. But I was there seven days a week, working 14 to 16 hours a day.
"I have no apologies, no regrets. I gave my very best efforts," he added. "I've been hung in effigy. I've been spat upon. You just have to let those things bounce off."
Later, after many of the wounds caused by the divisive conflict began to heal, Westmoreland led thousands of his comrades in the November 1982 veterans march in Washington to dedicate the Vietnam War Memorial.
He called it "one of the most emotional and proudest experiences of my life."