Pro wrestler Hashimoto dies at 40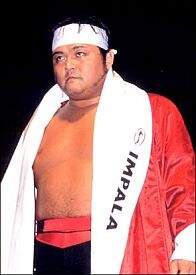 posted 2005-07-12 10:49:58 by stevemay





Tokyo -- Shinya Hashimoto, one of Japan's top wrestlers, has died of a cerebral hemorrhage at age 40 after collapsing at his home.
Hashimoto was taken to a hospital in Yokohama, where doctors confirmed his death after he collapsed Monday. His lawyer said his heart had almost stopped beating when an ambulance took him to the hospital, the Mainichi Shimbun reported Tuesday.
Hashimoto began his professional career in 1984 when he joined the New Japan Pro Wrestling organization led by Antonio Inoki, a great wrestler who has now retired. His powerful fighting style made him popular with wrestling fans in Japan.
Hashimoto left the New Japan Pro Wrestling group in 2000 to form his own wrestling organization. He became a free-lance wrestler last year.
After having an operation on his right shoulder last year, Hashimoto reportedly had been trying to make a comeback.