John Fiedler, voice of Piglet, dies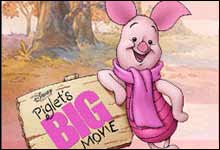 posted 2005-06-27 11:28:18 by stevemay





NEW YORK -- John Fiedler, a stage actor who won fame as the voice of Piglet in Walt Disney's Winnie-the-Pooh films, died Saturday, The New York Times reported in Monday editions. He was 80.
Fiedler served in the Navy during World War II before beginning a stage career in New York. He performed in supporting roles alongside Sidney Poitier on Broadway, John Wayne in Hollywood and Bob Newhart on television.
With Newhart, on "The Bob Newhart Show," he was Mr. Peterson, the meek patient who was often a target for Jack Riley's sarcastic Mr. Carlin.
Fiedler also appeared in the films "12 Angry Men," "The Odd Couple," "True Grit," "The Fortune" and "Sharky's Machine," and was a cast member on the TV show "Buffalo Bill."
But he was best known for the squeaky voice of the ever-worrying Piglet that he landed when someone noticed his naturally high-pitched voice.
"Walt Disney heard it on a program and said, 'That's Piglet,' " his brother James Fiedler told The Times.
In addition to his brother, Fiedler is survived by a sister, Mary Dean, The Times reported. The newspaper did not report the cause or location of his death.