Paul Winchell, 82, TV Host and Film Voice of Pooh's Tigger, Dies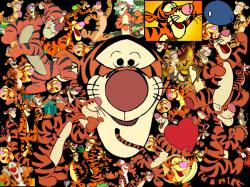 posted 2005-06-27 10:14:46 by doug





Paul Winchell, the ventriloquist creator of the puppet Jerry Mahoney, who later became famous as the animated voice of Tigger, Winnie-the-Pooh's exuberant friend, died on Friday at his home in Moorpark, Calif. He was 82.
His death was announced by a family friend, Burt Dubrow, a television producer.
Mr. Winchell not only gave Tigger a voice to match his bounce in the animated versions of A. A. Milne's classic, but also his signature phrase, "Ta-ta for now."
Paul Wilchin was born in New York City on Dec. 21, 1922. He was a master ventriloquist and an early star of television; in 1950, he had his own show, featuring Jerry Mahoney. He later built another dummy sidekick, the dimwitted Knucklehead Smiff, who appeared with him and Jerry Mahoney on various shows in the 1950's and 1960's.
His creativity was not limited to show business, however. He studied hypnotism, acupuncture and theology and was fascinated by the ways things worked. He was an enthusiastic inventor and developed 30 patents. These included one for an early artificial heart, which he built in 1963 and then donated to the University of Utah for research.
Mr. Winchell also claimed credit for a wide variety of other inventions, including a flameless cigarette lighter, battery-heated gloves and an invisible garter belt.
He was classically quixotic in many ways. In the 1980's, he testified before a Congressional committee with other celebrities, including Ed Asner and Richard Dreyfuss, trying to obtain financing for the Tilapia Project, a plan to cultivate production of the tilapia fish, which thrives in brackish water, as a source of protein for undernourished people in sub-Saharan Africa. The project failed to interest Congress.
Becoming a performer was not an obvious path for Mr. Winchell: his own Web site, paulwinchell.com, describes him as a shy child with a stutter, whose parents were opposed to his career. But at 13, he made a radio appearance on "Major Bowes' Original Amateur Hour" doing imitations of Edgar Bergen and his dummy, Charlie McCarthy. He made his television debut in 1947.
Ed Sullivan gave him a significant boost and national exposure by inviting him to appear on his show from time to time. His long television career covered variety and children's shows, as well as on-camera guest appearances on series like "The Beverly Hillbillies," "The Lucy Show," and "The Brady Bunch."
Mr. Winchell's distinctive voice became popular in numerous animated roles for film and television cartoons. He began playing Tigger in 1968, in the Walt Disney's "Winnie-the-Pooh and the Blustery Day," which earned an Academy Award for best animated short film. In 1974 he, Sebastian Cabot and Sterling Holloway won a Grammy for the best children's recording of the year for "Winnie-the-Pooh and Tigger Too."
He continued playing the Pooh's bouncing buddy on television and in movies until 1999, when Jim Cummings, the current voice of Pooh, took on Tigger's part as well.
Mr. Winchell also supplied voices for Boomer in "The Fox and the Hound," for the Siamese cat in Disney's "Aristocats," and also for many Hanna-Barbera characters, including the evil Gargamel of "The Smurfs."
He was married three times, and is survived by his wife of 31 years, the former Jean Freeman, as well as five children. Mr. Winchell gave his wife Jean, who was British by birth, credit for Tigger's "Ta-ta for now" line. He wrote an autobiography, called "Winch," after his nickname.
Though the book describes the emotional traumas in his life, Mr. Winchell had a sense of humor. Describing the ill-fated Tilapia Project on his Web site, he tells of stopping in Manhattan after the hearings in Washington with Mr. Dreyfuss and Mr. Asner. They bumped into the comedian Alan King, who was walking on 49th Street carrying a tuxedo over his shoulder.
"When he saw us he did a triple take," Mr. Winchell wrote. "We asked him where he was going. 'I got a club date at the Waldorf tonight,' he grinned, 'and thought I'd walk.' We broke up and laughed like a bunch of kids and not a soul passing by recognized any of us. So go ahead and be a celebrity.' "