Soul Asylum Bassist Karl Mueller Dies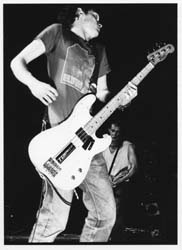 posted 2005-06-20 17:17:57 by arnoldam





NEW YORK -- Soul Asylum bassist Karl Mueller lost his battle with throat cancer and died Friday. He was 41.
Mueller was due to have surgery the day he died, his friend, Maggie Macpherson said. His cancer had gone into remission in October.
Macpherson said they had all hoped he had come through the worst, The Star-Tribune reported.
Mueller, along with frontman Dave Pirner and two others, founded Soul Asylum in 1984. They are probably best known for their songs "Runaway Train" and "Somebody to Shove."