'MacGyver' Actor Dana Elcar Dies at 77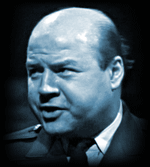 posted 2005-06-10 15:46:54 by arnoldam





VENTURA, Calif. -- Actor Dana Elcar, whose role as Peter Thornton on ABC's adventure series "MacGyver" depicted his real-life struggle with glaucoma and blindness, has died. He was 77.
He died Monday of complications from pneumonia at Community Memorial Hospital in Ventura, the Los Angeles Times reported Friday.
Richard Dean Anderson, who played MacGyver, recalled working with Elcar.
"At a time when I had very little business being called an actor, he made things so easy for me," Anderson told the Times. "It was a learning experience that was very warm and loving for all seven years."
Elcar told producers he was going blind after four seasons with "MacGyver," but they simply adapted his character to match his medical condition.
"The fact that you are losing your eyesight does not mean you have forgotten how to act," Elcar, in a speech to the National Federation of the Blind in 1991, recalled producers telling him.
The show ended a year later, when he had become almost completely blind.
Elcar's television career spanned 50 years. He played in other drama series, including "Baretta" opposite Robert Blake and the Robert Conrad series "Black Sheep Squadron."
The actor also appeared in at least 40 films, including "The Sting," "2010," "All of Me" and "The Learning Tree."
"'The Learning Tree' was a big turning point for him, and a good performance in his mind," said his son, Dane Elcar. "He played a really bad guy really well."
Elcar also starred in off-Broadway plays, including the first American productions of Harold Pinter's "The Dumb Waiter" and "The Caretaker," Dylan Thomas' "Under Milk Wood" and Samuel Beckett's "Waiting for Godot."
Running away from home in Ferndale, Mich., at age 13 may have led Elcar to an acting career.
He and a friend tried to catch a ride on a train to Detroit, but Elcar missed it because he couldn't run fast enough. So he spent the night in a town far from home, watching "Citizen Kane" at an all-night theater.
"That kind of sparked him to be an actor.
He watched it four or five times in one night," his son said.
In addition to his son, Elcar is survived by three daughters, Nora Elcar Verdon, Chandra Elcar and Marin Elcar; a stepdaughter, Emily Prager; a sister, Marie E. Hewitt; a half-sister, Janet K. Melville; longtime companion Thelma M. Garcia; and a granddaughter.