Eddie Albert, Actor Best Known for 'Green Acres,' Dies at 99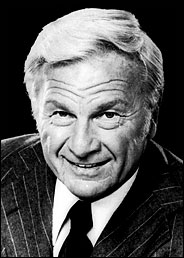 posted 2005-05-27 19:40:47 by stevemay





LOS ANGELES -- Eddie Albert, the actor best known as the constantly befuddled city slicker-turned-farmer in television's ''Green Acres,'' has died. He was 99.
Albert, who appeared in movies and television for more than 50 years, died of pneumonia Thursday at his home in the Pacific Palisades area, in the presence of his longtime caregivers and son Edward, family friend Dick Guttman said Friday.
Albert achieved his greatest fame on ''Green Acres'' as Oliver Douglas, a New York lawyer who settles in a farm town with his glamorous wife, played by Eva Gabor, and finds himself perplexed by the antics of a host of rural residents, including a pig named Arnold Ziffel.
Albert was nominated for Academy Awards as supporting actor in ''Roman Holiday'' (1953) and ''The Heartbreak Kid'' (1972).
The actor moved smoothly from the Broadway stage to movies to television. Besides his 1965-1971 run in ''Green Acres,'' he costarred on TV with Robert Wagner in ''Switch'' from 1975 to 1978 and was a semi-regular on ''Falcon Crest'' in 1988.
He was a tireless conservationist, crusading for endangered species, healthful food, cleanup of Santa Monica Bay pollution and other causes. He had remained healthy even in old age.
''Three days ago he was playing basketball in his wheelchair with his granddaughter,'' Guttman said. ''He stayed very vital.''