Thurl Ravenscroft, Voice of Tony the Tiger, dead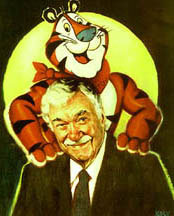 posted 2005-05-24 11:23:00 by stevemay





FULLERTON, California -- Thurl Ravenscroft, who provided the rumbling "They're Grrrrreeeat!" for Kellogg's Tony the Tiger ads and voiced a host of Disney characters, has died. He was 91.
Ravenscroft died Sunday of prostate cancer, said Diane Challis Davy, director of Laguna Beach's Pageant of the Masters.
For more than 50 years, Ravenscroft was the affable voice behind Tony the Tiger, TV's popular cartoon pitchman for Kellogg's Frosted Flakes.
"I'm the only man in the world that has made a career with one word: Grrrrreeeat!" Ravenscroft told the Orange County Register in 1996. "When Kellogg's brought up the idea of the tiger, they sent me a caricature of Tony to see if I could create something for them. After messing around for some time I came up with the `Grrrrreeeat!' roar, and that's how it's been since then."
He also narrated the summertime Pageant of the Masters at Laguna Beach for 20 years and lent his voice to characters on thrill rides at Disneyland, including the Pirates of the Caribbean, Splash Mountain, the Enchanted Tiki Room and the Haunted Mansion.
"Disneyland wouldn't have been, and wouldn't be, the same without him," the park's former president, Jack Lindquist, told the Register. "His voice was one of the things that made it all come alive."
Ravenscroft also did voices for the animated films "Cinderella," "The Jungle Book," "Mary Poppins," "Alice in Wonderland," "Lady and the Tramp" and many others.
Born in Norfolk, Nebraska, Ravenscroft moved to California in 1933 to study art. By the mid-1930s he was appearing regularly on radio, and by the late-1930s he was singing backup for Bing Crosby.
After military service during World War II, he returned to Hollywood, where he sang with the Mellomen, a group that performed with Frank Sinatra, Danny Kaye, Rosemary Clooney and Elvis Presley.
In 1952, Ravenscroft's voice appeared in the first Frosted Flakes commercial.
Ravenscroft is survived by two children and four grandchildren. June, his wife of 53 years, died in 1999 at age 80.